Newsletter October 2019
By: Elemental Fitness Ltd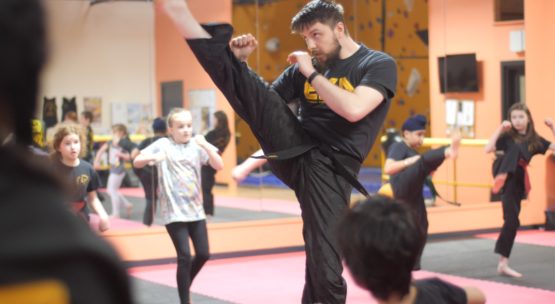 Two tournaments, several gradings, a challenge that made everyone walk like John Wayne and a new apprentice. A busy September was had with the children returning to school and holiday mode coming to an end, we now enter the final stages of 2019 and prepare ourselves for cosy nights and as always, intense winter sessions.
Team EKA attended two tournaments with some great results and awesome fight footage too. We also had our third grading of 2019 with outstanding results as always and some members going that extra mile. And on the EF side of things we had a challenge that temporarily left clients without the use of their legs as illustrated in a clip of club member Jude trying to walk and looking like a new-born foal.
Delve in and get up to date with all that is happening with Elemental Fitness and the Elemental Kickboxing Academy.
Adults
White, Yellow & Orange Belt Tuesday 19th November 2019 7:00pm - 9:00pm
Senior Purple, Junior Blue & Senior Blue Thursday 21st November 2019 7:00pm - 9:00pm
Red, Green & Junior Purple Belt Tuesday 26th November 2019 7:00pm - 9:00pm
Junior Brown, Brown II & Senior Brown Belt Thursday 28th November 2019 7:00pm - 9:00pm
Children's Gradings
White & Yellow Belt Saturday 23rd November 2019 11:15am - 12:30pm
Orange & Red Belt Saturday 30th November 2019 11:15am - 12:30pm
For September the EKA attended two tournaments, the first was the High Peak Championship run by Revolution on the 8th and the FSK Open Grand Championships run by WKC on the 22nd – this is where some of our team members picked up their GB Kit for their performance earlier in the year
Both went brilliantly and our fighters (especially the younger ones) are looking sharper by the day on the mats. The more consistent we are with these the better we will become as a team. Next dated tournament will be the WKC Event in Manchester where Tash, Aidan and Jude will be representing WKC England. Good luck with that one guys we're sure you'll smash it!
We have started a poll on our Facebook EKA group page to determine a date for the Christmas gathering. The choices are 30th November 7th and 14th December.
As of writing the 14th seems to be the most popular. It may seem early to announce this, but we want to have the biggest gathering we have ever had at the EKA and figured the more notice the better. This is for over 18's only but we do hope to have a Christmas themed day for the younger ones too, keep an eye out for information over the coming months.
Kids Class Challenge

October will see the little ninja's test the core strength with Russian twists. An exercise that targets the sides of the core muscles (obliques) which will help with core functionality.
September's machine-gun kick challenge saw Lissy get first place for the beginners with 283 sidekicks, and Nikita gets first place for the seniors with 504 sidekicks. Both have earned 5 stickers to go towards their reward chart. Keep up the good work guys!
Fight Club

Kickboxing and martial arts at its core is learning hand to hand combat. This can be implemented in different ways, one of them is to fight for sport. This means that contact will happen and the risk of injury increases. We always aim to take safety measures and will apply them diligently.
Firstly, we have decided a traffic light system needs to be outlined allowing members to follow, this will consist of 3 rules, green, amber and red. Each colour represents a level of power and contact, the fight must be fought at the lowest level agreed, for example, if one fighter wants to fight amber, but the other wants to fight red, the fight must be fought at amber level.
In addition to the above we decided to relook at the format of fight club. We aim to create 3 areas - one for a shadow fighting, a point fighting area, and a light continuous area in the ring. The traffic light system will apply to all areas.
We will also aim to incorporate more ring time in class to help with member confidence levels for fight club and competition fights.
Catch up on the most recent blogs from staff and members of the EKA.
Three Blogs to read from September, the first being a detailed look at how Team EKA did at the High Peak Championship.
Second is the 11 Rules of the EKA – our Code of Conduct.
Finally how music and martial artss can be combined to get the most from one another.
Bring 3 friends to sign up for the 4-4-12 offer and get a free personal training session.
Full Sparring Kit for £89.00 - saving you 20%.