​Get Rhythm – Putting Music Behind Your Practice – Part 1
By: Dale Norfolk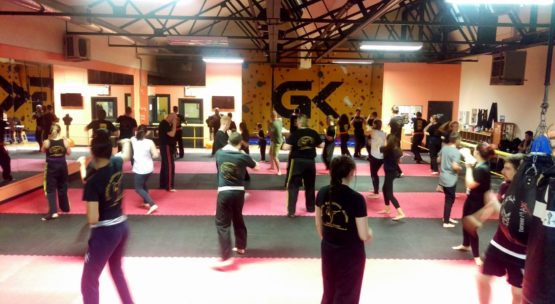 Get Rhythm – Putting Music Behind Your Practice – Part 1
As the song goes
"Hey, get rhythm when you get the blues, hey, get rhythm when you get the blues, yes a jumpy rhythm makes you feel so fine, it'll shake all the troubles from your worried mind…"1
But more than just a catchy lyric, from a bygone year, its true statement if you let it be so. Think of all the times you've heard a song that maybe catches your mood, inspires you to do something.
A snippet of music that ties you into a particular memory2, time or place, nearly everyone has one.
For me, I use music to create a box at work, so I can concentrate from the things going on around me, I use it to write (like I am doing now), I use it to provoke a particular mood or feel to things. And yes of course, you knew it was coming, I use it to train and to play through in my mind when I am sparring. I even try to think through song lyrics when I can, trying to get all the way to 100 bicycle kicks, thank you Keef.
Now I may be teaching people to suck eggs, but I am speaking to those who are with me here. The use of music is important for me in training as it gives me a temp and speed to the way I do things. A lot of you will have to come to terms with this when you start completing katas to music.
In my opinion, it is important that the kata fits the music, as well as the music fitting the kata, with suitable high and low points to give you triggers in your movement.
Likewise, in sparring the music should keep you going and inform footwork. This is demonstrated acutely in martial arts such as Thai Boxing3 and Capoeira4, in both of these arts, music is integral to the way they are performed, and the intensity of the music can build how the fight develops and spurs on the fighters. Indeed, in the way that martial arts were practiced and hidden from outsiders made them more of a dance at times, certainly the movements of Karate were hidden in dance movements during a time of regulation.
For me music is directly linked with fighting and I always want to have it playing whilst I'm sparring. So, I hear you ask, what and why? And that's what I'm here to give you, below are some tracks I use, yes there will be a mix. But let me know what you think, I'm eager to hear and if you find something amazing that's good for movement, maybe we can add it to a club playlist.
Brief word of warning especially for my main genres, the club will not support spicy music choices, if you get what I mean. (Some may contain explicit lyrics and will be marked with a warning – [parental advisory, explicit content]
My Playlist (With explanation):
1
Artist: The Birthday Massacre5
Track: Under Your Spell
Reason: The highs and lows of the track give to balanced technique structure, allowing striking precision, ramping up to big moves during the chorus.
2
Artist: Nine Inch Nails6
Track: Closer[parental advisory, explicit content]
Reason: The hypnotic beat to the song informs foot work and movement.
3
Artist: Clutch7
Track: A Quick Death In Texas
Reason: A constant chugging beat to it, blues feel that makes you want to move.
4
Artist: Union Underground8
Track: Turn Me On "Mr Deadman"[parental advisory, explicit content]
Reason: Peaks and troughs, aggressive nature.
5
Artist: Pantera9
Track: Walk[parental advisory, explicit content]
Reason: Sheer aggression
6
Artist: Ootz Ootz10
Track: Fear And Dependence
Reason: One for the fleet of foot, very energetic.
7
Artist: Amon Amarth11
Track: Blood Eagle
Reason: Nothing speaks of fighting more than Viking metal.
8
Artist: And One12
Track: Military Fashion Show
Reason: Nice light track that informs timing and stance switching.
9
Artist: Bad Religion13
Track: 21st Century
Reason: Bit of punk to get the feet and arms bouncing.
10
Artist: The Cruxshadows14
Track: Perfect
Reason: Nothing like a bit of floaty self-affirming darkwave to help you hit those high points in your technique.
11
Artist: Flogging Molly15
Track: Seven Deadly Sins
Reason: A jaunty shanty, that informs confident and vigorous fighting
12
Artist: Golgol Bordello16
Track: American Wedding[parental advisory, explicit content]
Reason: Steady beat with plenty of ups and downs
13
Artist: Incubus17
Track: A Certain Shade Of Green[parental advisory, explicit content]
Reason: Good energy with peaks and troughs
14
Artist: Marilyn Manson28
Track: I Put A Spell On You
Reason: That steady beat, the ramping between verse and the chorus.
15
Artist: Jeff Hardy18
Track: Resurrected
Reason: Pulsing guitar for movement.
16
Artist: Metallica19/The Misfits20
Track: Die Die Die My Darling [parental advisory, explicit content]
Reason: Strong drumming, sense of aggression.
17
Artist: My Life With The Thrill Kill Kult21
Track: After The Flesh[parental advisory, explicit content]
Reason: Conjures images of fight scenes from The Crow (18) for me. A snarling aggression to the track)
18
Artist: Rammstein22
Track: Du Hast
Reason: German industrial at its finest, thumping sound to it.
19
Artist: Savage Messiah23
Track: The Cursed Earth
Reason: For those who like it a bit retro, chugging beat with melodic sounds.
20
Artist: Skindred24
Track: Nobody
Reason: Raga metal, to help you get loose an get creative.
Quick note, here are a few I ruled out, due to reasons, if you want to try fight to them you can, but its not gonna be easy:
Artist: Slayer25
Track: Angel Of Death
Reason: Its just too damn fast.
Artist: Dragonforce26
Track: Through Fire And Flames
Reason: Just listen, its bloody silly.
Artist: Naplam Death27
Track: You Suffer
Reason: Try I dare you
References
1 https://en.wikipedia.org/wiki/Get_Rhythm
2 https://sites.psu.edu/siowfa16/2016/09/16/why-does-music-trigger-specific-memories/
3 https://en.wikipedia.org/wiki/Muay_Thai
4 https://en.wikipedia.org/wiki/Capoeira
5 https://en.wikipedia.org/wiki/The_Birthday_Massacre
6 https://en.wikipedia.org/wiki/Nine_Inch_Nails
7 https://en.wikipedia.org/wiki/Clutch_(band)
8 https://en.wikipedia.org/wiki/The_Union_Underground
9 https://en.wikipedia.org/wiki/Pantera
10 https://www.discogs.com/artist/1587860-00tz-00tz
11 https://en.wikipedia.org/wiki/Amon_Amarth
12 https://en.wikipedia.org/wiki/And_One
13 https://en.wikipedia.org/wiki/Bad_Religion
14 https://en.wikipedia.org/wiki/The_Cr%C3%BCxshadows
15 https://en.wikipedia.org/wiki/Flogging_Molly
16 https://en.wikipedia.org/wiki/Gogol_Bordello
17 https://en.wikipedia.org/wiki/Incubus_(band)
18 https://en.wikipedia.org/wiki/Jeff_Hardy
19 https://en.wikipedia.org/wiki/Metallica
20 https://en.wikipedia.org/wiki/Misfits_(band)
21 https://en.wikipedia.org/wiki/My_Life_with_the_Thrill_Kill_Kult
22 https://en.wikipedia.org/wiki/Rammstein
23 https://en.wikipedia.org/wiki/Savage_Messiah_(band)
24 https://en.wikipedia.org/wiki/Skindred
25 https://en.wikipedia.org/wiki/Slayer
26 https://en.wikipedia.org/wiki/DragonForce