Gradings December 2021
By: Elemental Kickboxing Leeds elementalkickboxing, kickboxingleeds, gradings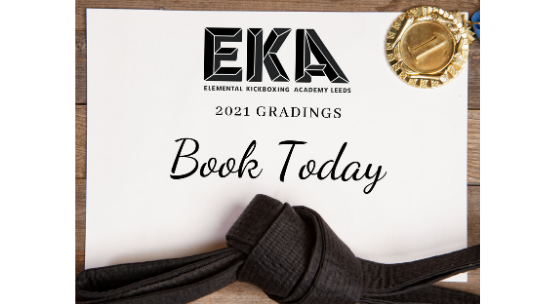 Its that time again, the next round of gradings have been arranged. See details below.
We are excited to announce the next instalment of the clubs grading dates in December 2021 for both adults and children.
Grading dates can now be found in the company calendar section of our app where you book your classes. All gradings are titled gradings and highlighted in green.
Please book the the belt you are grading for using one credit and pay using this link.
Please arrive 15 minutes before your grading is due to start. Please ensure you are familiar with the requirements for the belt you are grading for by reading the club syllabus given to you when joining the club, if you are in doubt speak with an instructor.
If this is your first time grading you must ensure you have returned your club enrolment forms and have a valid club licence and grading record.
To keep in line with the clubs COVID-19 procedures and government restrictions all gradings will need to be booked in advance. You can click here to pay for your grading. Upon payment please book into your chosen grading via the our clubs calendar as normal. Please note, currently we have a maximum of 15 spaces per grading - please book early to avoid disappointment.
*All prices include VAT, certificates and belt/embroidery (at 1st dan black belt)
If you pass your grading you will be awarded your belt. Certificates are produced once all gradings have finished and available to collect at a future class. If you fail your grading you will be eligible to grade free of charge at the next event.
Members grading for 1st Dan Black Belt and above will be emailed individually with details of their grading, separate arrangements will be made to the quarterly club gradings. If you pass certification and deluxe black belt with personalised embroidery is awarded for Black Belt 1st Dan. Certification and additional Dan bar embroidery of existing deluxe black belt is awarded for Black Belt 2nd Dan and above. Please note members gradings for Black Belt 1st Dan and above are required to pay for their gradings 2 weeks before their practical assessment.
We encourage existing club members not grading to come down and show their support. We need members of at least 1 years experience to help out, train and spar. Participants are welcome to get involved in any part of the day and take it at their own pace however fighters will be needed so full sparring kit is required. Participants are required to pay a £7.50 booking fee directly to the club in advance - this is to secure your attendance on the day and ensures we have enough participants. This is none refundable but you will receive a grenade bar, energy drink/water and a protein shake on the day (or equivalent).
We are currently planning our next Black Belt Grading for June 2022.
Members not grading are welcome to attend our classes as normal. If numbers in the class restrict a member from grading, you will be contacted and asked to chose a different lesson that week.