Newsletter: September 2021
By: Elemental Fitness Ltd newsletter, healthandfitness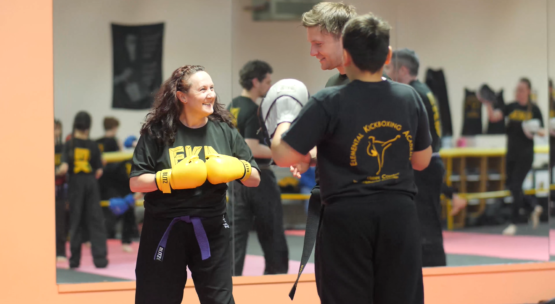 Summer holidays have come to an end, back to school, back to work, back to life, back to reality, back to the here and now…yeah.
But it also means; no interruptions to training, no trying to explain the all-inclusive break in the Cotswolds to your PT or those extra calories through a few more glasses of red on the weekday – don't worry, you want to enjoy yourself, we get it.
We have more classes to work with, another challenge and a new membership to get that training back on track!
Let's Go…!
New Monday Class

Stuart Wright, an existing club member and black belt Taekwondo instructor, will start two new Monday night kickboxing classes from September 6th. The classes will be focusing on kickboxing, circuits, fitness training and beginner sparring drills.
Following our usual times of 18:00-19:00 and 19:30-20:30, we now have a total of 8 adults' classes to attend throughout the week. Great news for those that have started the new Bronze+ membership (see more below) and need more choice of classes.

I the sound of a beginner focused sparring class appeals and you want to know more about new-instructor Stu, then check out this article and book your class today.

After some interest in a middle ground between our 6 classes a month on bronze and 12 classes on the silver membership, we have a new membership available for you all, offering 8 classes per month.
Attending classes as often as you can at an affordable price means having a variety of options available to our members. Being accessible is what we focus on at the EKA and EF and looking for ways to develop on this has always been a priority for us.

Get started on your Bronze+ membership today and see what the EKA is all about.

Stickers are Back for the Kids
After a few weeks of not having any stickers to hand out to our little ninjas we have finally found a place that sells the exact same ones! It was touch and go for a moment, thinking we would have to find new ones and for something so mundane as a sticker, nowhere did any good ones and we know what kids can be like when it comes to colleting stickers.
Alas, we are now stocked and ready to rock. Children that prove themselves and go all out in class can expect to earn a sticker. Collect 10 of these and you get a badge, fill an entire reward chart and you could look at getting a special prize!

For more information on this, check out this article on our children's classes and our rewards system.

We are now running both children and adults grading for September. After a few months of being back to the club and members starting to loosen those kicks off, we figure it is now time to prove yourselves and grab that next belt.
For all information on how to book your slot at the next grading, follow our step-by-step guide here. For even more information, please speak to an instructor at your next class. Good luck at your grading.
Bring 3 friends to sign up for the 4-4-12 offer and get a free personal training session.
Half Price Club T-Shirts, the original (vintage line) EKA training tops, hurry as we only have a limited supply - once they are gone there will be no more!