Learn to Kick with Stu
By: Elemental Kickboxing Leeds elementalkickboxing, kickboxingleeds, kickboxingclubleeds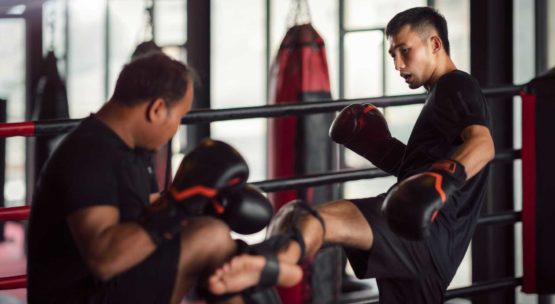 Learn more about Stu, our existing club member and black belt Taekwondo instructor as he prepares to instruct our new Monday night kickboxing classes in September. The classes will be focusing around kickboxing, circuits, fitness training and beginner sparring drills.

Classes are available to book now!
What made you become a Martial Arts Instructor?
I wanted the opportunity to encourage, inspire and teach, as I have been encouraged, inspired and taught by my instructors over the years.
What qualifications/experience do you have?
I hold a Taekwondo Black Belt and am a qualified Gym Instructor, currently working towards a Level 3, then Level 4 Personal Trainer Qualification
I would say coming from a Taekwondo background my speciality is kicking. I enjoy the technical side and how the smallest nuances and positioning can drastically improve your kicks.
How do you assess a new member?
I would assess a new member by asking about previous experience and martial arts history, styles trained, belts achieved and sparring experience. From this information I would reference against the club syllabus and refer them to the class / instructor that would be most suitable.
How do you track member progression?
Member progression would be tracked by comparing their performance and current belt level against the club syllabus to ensure they are on track, and advising of anything that may help them to reach their next belt.
What is your preferred style of encouragement?
I believe positive feedback is the best form of encouragement. Let people know the things they are doing well, not just the things they need to improve.
What is your favourite technique?
Love a well-timed spinning hook kick
What is your training regime like?
I normally train 5 days a week. A good mix of martial arts training, and training to supplement my martial arts and general quality of living including cardio work, strength and conditioning training, mobility and flexibility training. I particularly enjoy kettlebell work.
What is your most memorable moment in martial arts?
Achieving my Taekwondo Black Belt and winning my first competition are the big ones for me. The first competition I lost was memorable too!
What do you hope to achieve at the Elemental Kickboxing Leeds Academy?
I am still currently working towards my Kickboxing Black Belt which I hope to achieve in the next few years. I also look forward to being able to pass on my knowledge and experience to others and hopefully help on their martial arts journey.
What I like to do away from the gym
I am a keen musician and work as a part time composer for film and TV. I also enjoy mountain biking and spending time with my family.