Newsletter June 2019
By: Elemental Fitness Ltd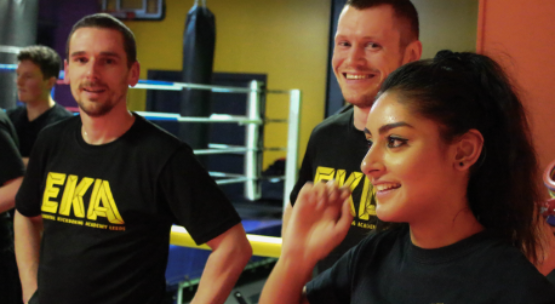 It is not often we have many Black Belt Gradings at EKA. However, since its inception and seeing it go from strength to strength and its member base increase over the years its great to see these special gradings come around more often. With how things are and how many members we have we can expect to see some form of black belt grading once a year at least.
Well done guys for achieving the next rank at EKA! All of you should feel proud and accomplished whatever belt you attained. All that remains are the children's grading which were pushed back into the first week of June so good luck to the little ones!
We would love to hear your stories of how far you have come and what it took to get you where you are now. Go to our EKA group page to let us know all about your journey.

Videos of Kata's and sparring have been uploaded on to our social media pages which can be found here if you would like to see how members performed… spoiler alert – very well!

Our last tournament took Team EKA to the lovely seaside resort of Scarborough. However, the team was not feasting on donuts and chips whilst wasting many 2 pennies at the arcades… at last not to begin with.
No, the team were hard at work once again to earn those medals against some tough competition. Fighting national and international champions and proving their worth.
Our fighters, this time round, consisted of Natasha, Jude, Paddy, Nikita and Leon. All did incredibly well, with Jude and Paddy (Paddys first time with the team) earning bronze in light continuous and Natasha receiving gold in points and silver in light continuous.
As always, the team are making the EKA proud never leaving these events empty handed and the support from each other is amazing. This also shows in the EKA Fight Clubs too with a high attendances and regularity which the club has never seen before, showing us just how well Team EKA is bonding.
Keep it up!
Next tournament will be the WKC Open Championships in Manchester. Located at the George H Carnall, Kingsway Park, Urmston, Manchester, England M41 7FJ.
If you are interested in competing speak with fight club coordinators Sanaa or Aidan and visit our Events Page to get more details about this and all other tournaments throughout the year!
Only two more weeks until Aaron and Eliot attempt their grading for their First Dan Black Belt and Keith goes for his Second Dan!
The grading will be taking place Saturday 15th and start at 8:00am. Grading will finish at 12:00. Here is what to expect -

8:00 - 10:00

Instructing
Technique based training
Two-step partner work
Practical self-defence
10:30 - 10:45

KATA forms
10:45 - 11:45
Light continuous sparring
11:45 - 12:00
Awards
See you there and good luck to those grading!
Junes challenge for the children's class will task the little ones to work their footwork using the agility ladders. Footwork is important to help movement towards, away and around an opponent come naturally and be fluid. It also helps with chaining moves together to build on combinations.
We are impressed by the kid's performance with these challenges and noticed a big improvement in their sessions with behaviour and fitness.
The winner of last month's challenge was... Filip again! He has received 5 stickers to go on his Martial Arts Sticker Chart. Getting that little closer to earning a Martial Arts Badge!
Catch up on the most recent blogs from staff and members of the EKA.
Last month, Dale establishes why the front kick is one of the best moves to perfect to give you the upper hand in fights.
Bring 3 friends to sign up for the 4-4-12 offer and get a free personal training session.
Full Sparring Kit for £89.00 - saving you 20%.
Final Words - Missing Stock
Whilst performing a stock check last week it was noticed someone had replaced a new #teameka tshirt with an old worn tshirt aged 12-13 by putting it on a hanger and back in the shop we can assume was for resale
After investigation no lead instructor has given authority to any club member regarding a return or replacement.
Like all our members we take pride in Elemental Fitness and the Elemental Kickboxing Academy. As this was not cleared with any instructor of Elemental Fitness this will be considered as stealing regardless of reason or intention which is unacceptable.
If anyone has seen anything they would like to share with us please note your privacy will be respected, feel free to speak with David in person or email info@elemental-fitness.com
To reduce the risk of the club falling victim to financial of physical damage, if noticed, please can members report any unusual activity to the office immediately.
Thanks in advance, the EKA team