Kickboxing, not for girls?
By: Gemma Naylor elementalkickboxing, kickboxingleeds, teameka, ladieskickboxing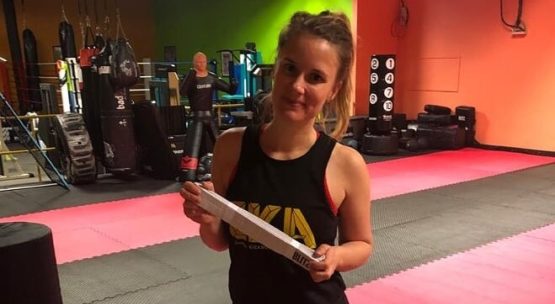 Kickboxing sparked my "love-love" relationship with exercising
I used to have a love-hate relationship with exercising. I loved the post-workout feeling, but pretty much hated the exercises I was doing in order to get it (e.g. running/gym classes). Since I started kickboxing, I now have a love-love relationship with exercise!
This might sound odd, but my kickboxing journey started when my fiancé Damien joined the club in August 2018. Damien has always had an interest in martial arts, so when a colleague invited him to go along to EKA, he was eager to give it a try. After his first class he arrived home, red faced, grinning from ear to ear. Bursting to tell me all about it, I could sense the 'buzz' in him as he proceeded to tell me all the stories of how much fun he had that evening.
He would demonstrate the different kickboxing techniques and combinations he had learnt and explained how friendly and supportive all the club members were. I nodded and smiled as I listened intently to his palpable enthusiasm, until the inevitable question came… "do you fancy coming kickboxing Gem?"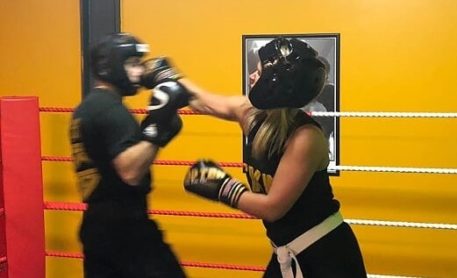 My previously relaxed state now became somewhat tense and uncomfortable, as the smile disappeared from my face I replied "no way! I can't go kickboxing". To which Damien challenged, "Why not?". The number of excuses that rolled off my tongue without me even thinking about it were more than I can count… "I'm not fit enough…", "it's not for girls…", "I'm not strong enough…", "I'll make a fool of myself…", "I'm not flexible enough…" …bla bla bla.
…All of the stock responses you would likely hear from a person who had a fear of not being good enough, in other words, a lack of self-confidence. The truth is, the beginning of my kickboxing journey can be summed up in one word, denial. I denied myself the opportunity to give it a try due to my own self-doubt. I also had a mis-conception of what it would be like, an aggressive, 'man-ly' gym where I would feel totally out of place, without ever having been to one single class or having any evidence (which when I think back, is so narrow-minded)!
Over a year passed and Damien continued to train every week, progressing through gradings and eventually reaching his red belt. Every time he returned from class, he would ask me the same question, "fancy kickboxing Gem?". Despite the fact I could see all of the benefits he had experienced, each time I gave him the same response, a big fat 'no'. I just couldn't get over my insecurities, but he never gave up on me. He kept on bugging me about it, until one day I eventually gave in and replied "right, I'll come to one class and if I don't like it, you're not allowed to ask me again, okay?", "deal" he agreed. This led to the next stage of my kickboxing journey: to try it out, just once.
It was August 2019 when I decided to go along to my very first kickboxing session. It was a Tuesday evening beginner's class led by the blackbelt instructor, Keith. I arrived full of nerves, bracing myself for what I thought was going to be 90 minutes of torture. I thought wrong…
Walking into any club where you feel like an 'outsider' is always a bit nerve racking at first, however, my mind was quickly set at ease by the friendly, welcoming atmosphere. It was obvious that I was a newbie (as I wasn't wearing the club kit), but that didn't matter. I was greeted by the instructors and throughout the class the members were really encouraging and supportive. I was made to feel part of the club from day one.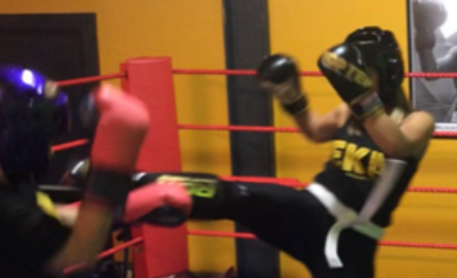 Since then I have been impressed by the professionalism of the instructors and the variety of different exercises in each session. I won't lie and say it's not physically challenging, because no pain no gain right!... but half of the time I don't even realise I am exercising because we have so much fun. Another great thing I've found about EKA is the good range of abilities in each class, all the way from absolute beginner through to black belt. No matter your age, gender or ability, everyone is supportive of one another (with a bit of healthy competition now and then J)
Now 6 months on, when I look back, I'm so glad Damien didn't give up on trying to get me involved because now I'm hooked and I absolutely love it! Here's why…
I have seen physical changes in my body including increased fitness levels, flexibility and reduced body fat. I have pushed myself out of my comfort zone to achieve my white-belt* and I've even had the confidence to get in the ring for some sparring (something which I thought I would NEVER do!!). Plus, it's working wonders for my mental health (less stress/anxiety) and I've made some great friends.
Although it's still early days, I've gained so much already, and I am grateful to EKA for providing such an awesome training environment. I'm excited to keep on challenging myself to see how far I can take it… My only regret so far? Not joining sooner!
If you are considering trying out the club, my advice would be don't hesitate… after all, there's no harm in giving it a try justonce, is there?
Hope to see you at the club soon!
(*massive thanks to our black belt instructor James who encouraged me to go for it!)