WKO - Jude Kirkwood-Thompson - 27th July 2019
By: Paul Glossop & Fiona Kirkwood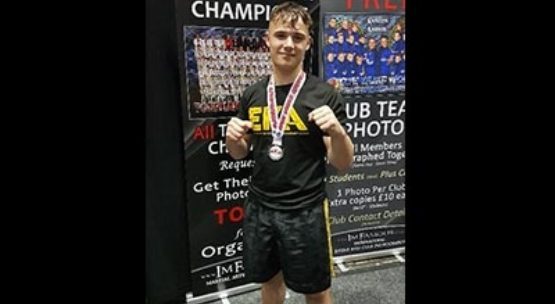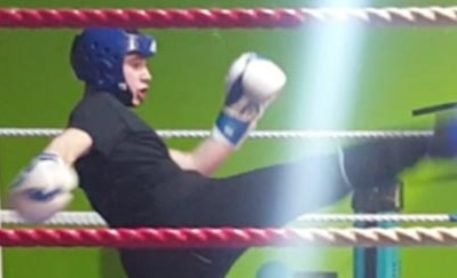 Jude's journey
My stepson Jude and I joined Elemental Kickboxing Academy together in June 2016, we quickly settled at the club and Jude demonstrated a natural flair for the sport.
After a couple of months, we began sparring one another in classes and this is when Jude truly developed his passion – possibly because he got to punch me in the face ;o). Jude progressed nicely as his confidence grew and at the age of 13 / 14 he was sparing with anyone regardless of their level, age or size. He loved it, even to the extent that he would become grumpy in class if we didn't spar.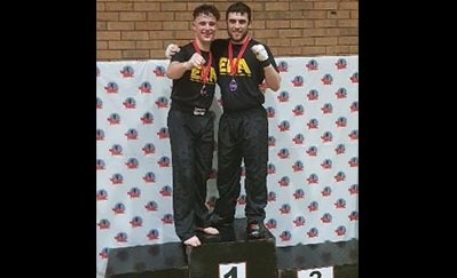 Sparring
Sparring became a regular feature of the Wednesday night classes and it was here a good rapport and friendship developed between Jude and Aidan. Aidan was a great sparring partner for Jude, it brought out the best in him and improved him.
Jude began to crave competition and following a chat with David, and some personal training with both him and James he entered the World Kickboxing Council (WKC) European Championships in July 2018. Representing Team EKA at his first competition, Jude overcame three opponents to win gold in the Under 16s Light Continuous over 75kg category. Just a year later, he would compete in K1 rules kickboxing in the main ring at the World Kickboxing Organisation (WKO) Open World Championships.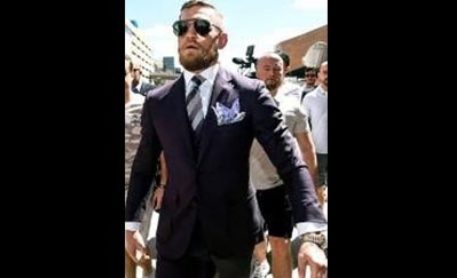 Mixed martial arts
Jude came across K1 watching clips of kickboxing and found a video of Alistair Overeem (UFC heavyweight) competing in the K1 World Grand Prix that he won in 2010. Jude feels K1 will be a good first step to moving into Mixed Martial Arts.

I asked him "why on Earth would you want to do MMA?", his reply "Money, bitches and clothes!" – I swear he has watched too many clips of Conor McGregor. He was of course joking; Jude really enjoys fighting and competing and to fight at a professional level, would be a dream come true for him.

Jude researched K1 competitions and found details of WKO who were to host their World Championships at Barnsley Metrodome that would take place 26 - 28 July. As parents it's a daunting proposition allowing your son to compete in a fight of this nature, Fiona was initially filled with fear and panic, she finds it hard watching him compete in Light Continuous but also finds it rewarding due to his passion and respect of the art. Jude met with David, who was impressed with his desire to compete his ambition, he gave his backing for Jude to enter the competition.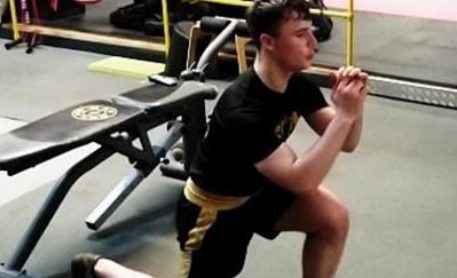 10 week training programme
We knew K1 would be a heavier intense style of fighting, so we spoke with Jude and David and were assured that he would be fully prepared and that this was the right choice for Jude. We have every faith in him as a competitor and gave our full support and so began his 10 weeks training programme prepared by David.

From first competing at WKC up to his WKO debut, Jude fought in six further competitions, finishing second in two, third in one and victorious in two.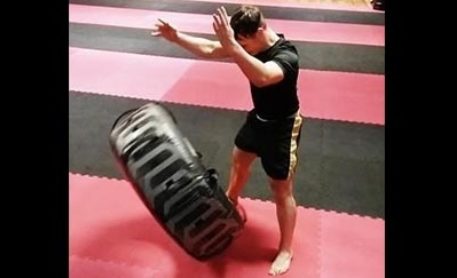 Training, training and more training
In the build-up to the WKO Open World Championships, Jude was focussed, determined and fully committed, having fortnightly personal training sessions, using the club's gym facilities regularly, training in classes twice a week and attending Fight Club.

The aim of the training was to improve Jude's technique, fitness, strength and explosive power. I noticed a change in Jude's body shape, he bulked up and when partnering him in class, you could feel the increase in his striking power holding pads for him. The training helped Jude not only physically, but also mentally prepared him for the championships and he was feeling confident.
As the date of championships drew closer, I liaised more with the event organisers and followed them on social media. Pictures and videos of past events were impressive, and the setup looked amazing. There were teams and fighters flying in from all over the world and everything seemed very well organised. I started to get an appreciation to how big an occasion the event would be.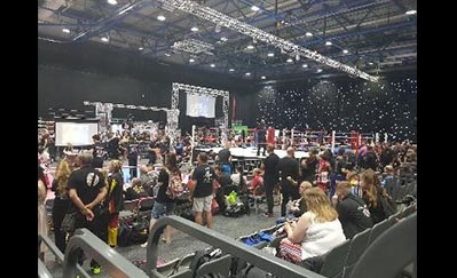 The day before the competition
The day before the competition, Jude was required to attend the venue to weigh in and pass a medical. The setup indeed was even more fantastic than the pictures, especially the central main ring under the lights, it had a professional feel about it and it certainly gave me a tinge of excitement.

As Jude queued up to be weighed, the butterflies started fluttering and he was "proper excited". It helped him get his head into the game, especially when he saw the ring for the first time, he felt ready and just wanted to get in there and fight.
When we headed home, I was constantly checking the WKO website for the schedule to be announced. Eventually at last there it was, K1 A-Class 15-16 years, +65.1kg, Main Ring. Jude would fight on centre stage in the main ring facing Bradley Rice from Bodyshots gym, Northern Ireland, an experienced fighter. There was only the two of them in the category, so the winner of the fight, after three 1-minute rounds would be crowned the WKO Open World Champion.
On the day of the event we arrived in plenty of time to soak up the atmosphere and help Jude settle. Fiona was on strict instructions, "Mum, if I get knocked out, promise you won't come into the ring, please". This hardly settled her. The venue was buzzing, there were many forms of Martial Arts competitions taking place – K1, Muay Thai, Full Contact, Sports Boxing, Light Continuous, Points Fighting and Katas - with coaches, parents, friends and teammates cheering on their fighters, coaches warming up their fighters, fighters going through their preparations – there was a real sense of occasion and it was all pretty inspiring.
I would advise anyone who enjoys competing to register for WKO and for Team EKA to enter. There was a different vibe to this competition and the action seemed to be on another level too, there were some fantastic Light Continuous encounters, exciting points fighting bouts, tough K1 and full contact fights and the Muay Thai was unreal to watch with the take downs and clinches.
Slightly frustratingly the time of Jude's fight kept changing on the WKO website schedule, however at least we were kept up to date and knew where we stood in terms of when it would be Jude's turn to enter the ring. As the clock ticked closer, Jude's adrenaline picked up and it was soon time for his pre-fight warm up with David.
It reached fight time and Jude was ready to rumble, he stepped into the ring wearing his Team EKA shorts, bare chested, protected by his shin and instep guards and head guard. Jude soaked up the atmosphere, excited by it and feeling like he belonged inside the ring. The referee went through the pre-fight instructions. Jude and Bradley touched their 10oz gloves and the bell rang to single the start of the round and the fight began.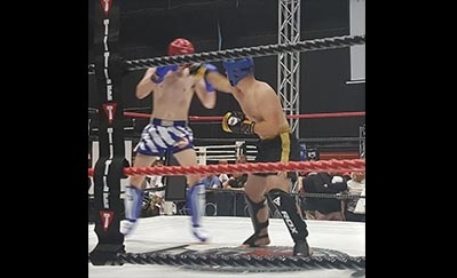 Round One
Jude started the fight aggressively throwing a roundhouse kick, landing with a right hook, missing a roundhouse but connecting with the next. Jude then landed a hard kick to the body following a jab cross combination, but Bradley was able to absorb it, stayed calm and composed and caught Jude in the clinch to deliver a nasty knee.

Jude went to throw a big roundhouse kick, but Bradley countered him with a stiff jab that knocked Jude down, he was quickly up however but to a mandatory 8 count.
The knockdown didn't phase Jude, instead he treated it as bit of a wakeup call that helped him "zone in". Bradley picked up with the pace following the knockdown and managed to bloody the nose of Jude, however Jude was also able to land some strikes. After the fight Jude told me he had gone into survival mode in the first round but settled for the second. I have watched the fight back several times and it was a close round, it's probably that Bradley landed some cleaner strikes that's all.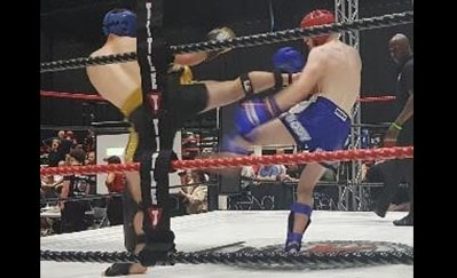 Round Two
In the second round you could see Jude was now more relaxed, and he settled into the contest, trying to concentrate on technique, a hook, front kick and roundhouse kick landed precisely

Bradley was doing a good job of avoiding Jude's power and his K1 experience was showing as his combinations worked openings for leg kicks and knee strikes. The ring of the bell sounded for the end of another close round.
During the second round a group of people had dashed to ringside excited shouting to each other what a great fight was unfolding and couldn't believe both lads were just 16, a great compliment to both competitors.
Final round, and both fighters came out going for it… Jude being the initial aggressor letting his hands go. Bradley then pushed forward utilising his speed, but Jude did a decent defensive job by pushing his opponent back with front kicks, leg kicks and roundhouse kicks. Bradley kept on the pressure though, and whilst Jude was checking some of the low kicks and avoiding some of the knees, the volume was high which prevented Jude from getting into his rhythm.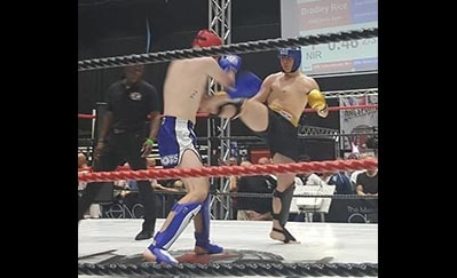 The end of the fight
The fight went the distance and the judges ruled in favour of Bradley, the referee raised his hand. Respectful as ever, Jude applauded his opponent and they both embraced. In my eyes Jude was still a winner, he had trained hard, performed so well and showed a lot of guts.

I have nothing but respect and admiration for him stepping into that main ring, under bright lights and in front of all those spectators, in an event that had a professional feel and a big stage presence, let alone to fight.
We knew before the fight that Jude's opponent was an experienced fighter, and we later learned he was awarded Most Inspirational Fighter that weekend at the WKO World Championships competing in K1, Full Contact, Light Continuous, Ultimate Fighter (Senior Division) and Sports Boxing, winning at least three of those categories and reaching the semi-final in another. He has also won 9 world titles across 3 associations within 5 months and this demonstrates the calibre of opponent Jude faced in his first K1 fight. With just 10 weeks of training and little K1 training experience Jude went toe to toe with Bradley going the distance, managing the occasion, landing some precise shots, taking some big hits and just did fantastic in an excellent contest. In the end Bradley's experience and toughness showed being able to absorb blows and use leg kicks, clinches and knees to his advantage but this is an excellent platform for Jude to now build on.
As a parent, I'm not going to lie, both Fiona and I agree it was hard to watch Jude in a fight like this with a bloodied nose and taking nasty knee strikes. However, it was also inspirational watching him fight and doing so well in the setting. I will obviously never compete, but it's changed my viewpoint on how I want to train and what I want from Martial Arts. We were and are very proud of Jude, not just for how great he did but the way he conducted himself afterwards, his attitude was mature and reflective and our respect for him only increased.
Jude has recently left school and started an apprenticeship so it's a big life change he is now adapting to. He has taken his time during the school holidays to reflect and in terms of Kickboxing competition the focus and priority for the remainder of 2019 will be Light Continuous representing Team EKA at three events, Revolution High Peak Championships, FSK Open Grand Championships and Revolution North East Championships as well as competing in the World Kickboxing Council World Championships representing the WKC England Team.
We are proud of the young man Jude has become and the way he represents EKA, the respect he has for fellow members and his opponents, his willingness to learn and recognition of where he can improve to achieve his ambitions. EKA has had a significant role to play and we are grateful for the support he receives from everyone at the club.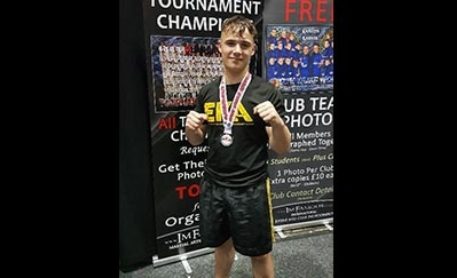 K1 fighting
I expect 2020 will be a big year for Jude, he has just passed his brown belt so will be working towards achieving Black Belt. The club has introduced a K1 style training element to the Monday classes which will help him and once he settles into his apprenticeship and armed with his own income he may invest in some extra training.
When he is ready, I am sure he will take K1 competitions by storm, he has my full backing, commitment and I believe in him as he works towards his dream.
Well done Jude!