WKC Open European Championships - 14th July 2019
By: Paul Glossop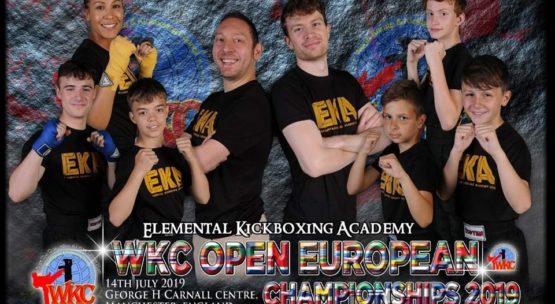 The George H Carnell sports centre in Manchester was the venue for the World Karate and Kickboxing Council (WKC) Open European Championships held on 14 July 2019.
With doors opening at 8:30am and the competition kicking off at 10:30 it was an early start for Team EKA members and spectators. Representing Team EKA were:
→ Sam, Lead Instructor
→ Tash, points fighting and light continuous (Ladies, over 70kg)
→ Jude, light continuous (Men under 75kg)
→ Paddy, light continuous (Boys under 13s, over 50kg)
→ Aaron, light continuous (Boys under 13s, under 50kg)
→ Elliot, light continuous (Boys under 13s, under 45kg)
→ Nikita, light continuous (Boys under 13s, under 35kg)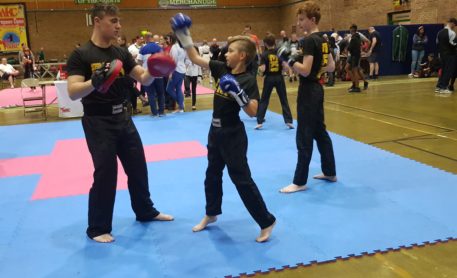 After the team members arrived, registered and weighed in they settled into the surroundings soaking up the energy and atmosphere. It is unclear at the competitions what time you are expected to fight, which added to the excitement, tension and nerves of the competitors. Each team member went through their own routine from tucking into a bacon sandwich to listening to their favourite tunes and there was plenty of support and encouragement amongst the team and spectators.
The team kept limbered up by warming up together, stretching and working on combinations with the focus pads. Then the dreaded announcements came, "Can Jude Kirkwood-Thompson and Natasha Cummings of EKA please come to the desk". This usually only means one thing, 'there is no one in your category to fight' - and that was exactly the case. Like true competitors both of our fighters moved up, Tash moved up two weight categories from under 65kg to over 70kg and Jude at the age of 16 moved into the men's category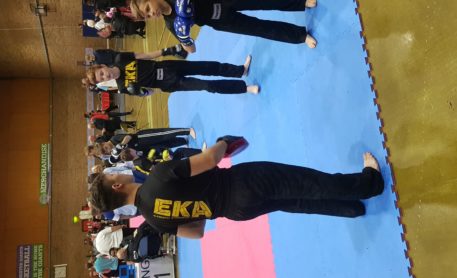 It was Nikita who kicked things off (pun intended) for Team EKA. After a cautious start, Nikita grew into the fight and increased the pressure landing some nice kicks, and blitzes that forced his opponent out of the ring. It looked like Nikita had done enough to the win, but to the surprise of Sam and everyone involved with the team, the judges were split.
This meant an additional 30 seconds would be added to fight on and decide a winner. Unfortunately, things didn't go Nikita's way, but he gave it absolutely everything and showed real heart. Nikita is a dedicated trainer, and you can see the strides he is making. At 10 years old he is fighting boys 2 / 3 years older so in a couple of years he is going to be a force to be reckoned with.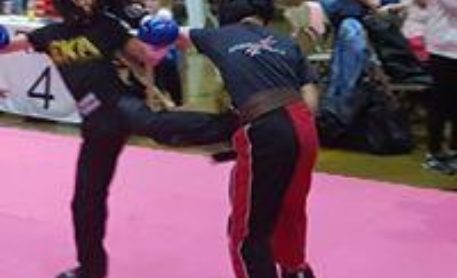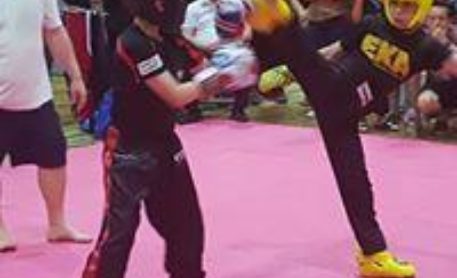 New 1st Dan Black Belt, Elliot, was next up on the mats in another close fight. Elliot is a technical fighter and added more aggression to his style and he looked impressive landing some crisp kicks and demonstrating some nice movement getting in and out and landing combinations with his fast hands. The judges decided against Elliot at the end of the bout however, again to the bemusement of the team who felt he had edged the close contest. Elliot was unlucky, and we are confident there are some big wins around the corner for him.
Aaron, another of our new 1st Dan Black Belts, was a late addition to the team and made his competition debut He gave an excellent account of himself, not looking out of place and mixing it up with punches and kicks in a close fight against a tricky opponent with nice footwork. As there were only two fighters in his category, Aaron took home a silver medal and seems to have caught the competition bug, we look forward to seeing more of him in action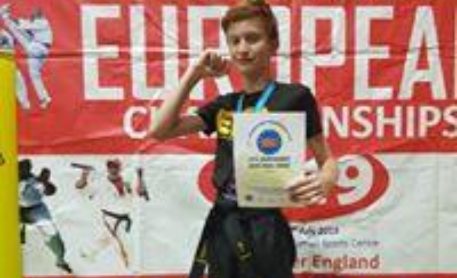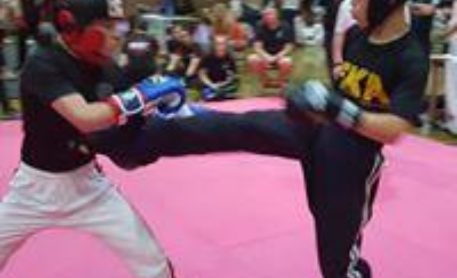 Paddy has taken to Kickboxing like a duck to water with a natural flair for the sport. Paddy fought twice, winning his first fight looking strong using some footwork to land effective combinations following up his punches with well-timed kicks, something lead instructor Sam was drilling into him because the judges love their kicks.
The victory earned Paddy a place in the final against a strong opponent who was countering nicely and did a nice job of halting Paddy's momentum. However, Paddy pushed forward demonstrating his strength and it made for a close entertaining fight that unfortunately didn't go in the favour of Paddy in the end. After bronze success at the Revolution Yorkshire Championships in May, it was silver this time and the odds will be short for a gold next time out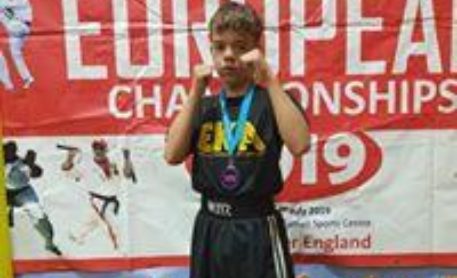 Tash has been competing in the novice points fighting categories in previous competitions, so this was a good challenge for Tash to not only enter at this level, but to move up two weight categories. Tash faced an experience opponent who focuses purely of points fighting who was quick and able to hit her targets and score points. Tash continued to push forward however pressuring her opponent with her reach and although she didn't get the W in the end, the moment of the fight was definitely Tash's powerful front kick that pushed her opponent out of the ring. Tash was awarded a bronze medal.
Tash also entered the light continuous category, and again had to step up two weight categories. This was only Tash's second light continuous competition and she faced another tough challenge head on against a heavier opponent.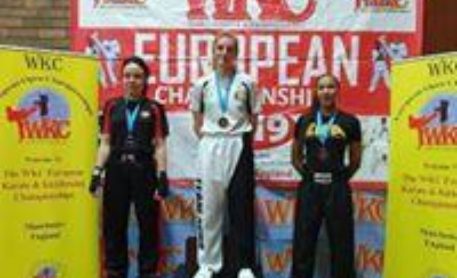 Tash went toe-to-toe, able to absorb and dish out some heavy hits whilst landing some big combinations; however her bigger opponent was able to apply pressure and the judges scored the bout in her favour. Tash earned another bronze medal to add to her trophy and medal collection. In true fashion Tash showed a lot of sportsmanship after both her fights, chatting away to her opponents and ensuring they were all included in the podium photographs.
At the age of 16, Brown II belt, Jude moved into the men's category to face a 3rd Dan Black Belt with lots of competition experience including full contact. Jude was not fazed, and, put on an excellent performance in an exciting close fight. Jude is learning to adapt to his opponents and used his kicks to keep distance and landed some lovely right hooks.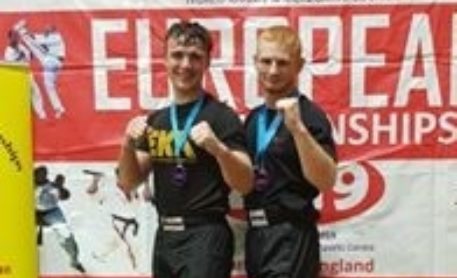 After the ninety seconds concluded, both fighters stood in the middle of the mat waiting for the judges decision…one judge went the way of Jude and we thought he had done enough, but it wasn't to be, the judges were split taking the fight to 30 seconds extra time. In that 30 seconds, Jude showed a lot of heart, giving as good as he got, but the experience of his opponent proved invaluable as he stepped up his game pushing on and taking the victory.
It was a great fight to watch with one of the WKC judges saying, "That was the best fight of the day, very controlled and just what light continuous should be". Both fighters chatted before and after the fight showing mutual respect and it was fitting that Jude was also able to bring a medal home, sharing the podium with his opponent.
Overall we would like to say a massive well done to all our Team EKA members – we had debutants, awesome fights, close fights, people moving up weight categories, medals brought home and we are proud of every single one of them and Sam for his coaching, all winners in our eyes – well done everyone!