The Kickboxing Bug
By: EKA Leeds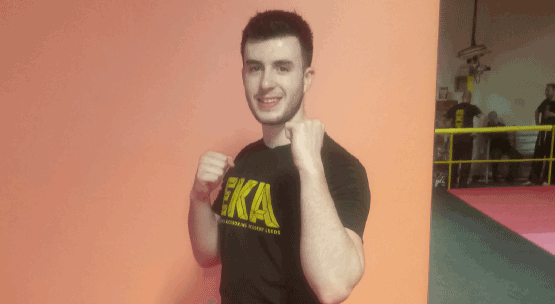 How Nathan caught the 'Kickboxing Bug'
Last week, the Elemental Kickboxing Academy caught up with BLACK belt Nathan Lammonby to find out what really got him into kickboxing, what obstacles he's overcome and more importantly, how he keeps motivated!
It was back in 2013 when I stepped into the world of kickboxing; getting my first feel of Elemental Kickboxing Academy at Priesthorpe School as I remember I had to find a club near my house so I could get a lift off the parents. After my first lesson - I got the bug, the kickboxing bug - I was hooked, throwing myself in there getting amongst the top dogs.
I began the journey towards the black belt making sure I met training, so every grading I would be there. From the start the gradings meant a lot to me, that sense of achievement really made you train. Getting the kick that would set back your opponent when sparring and of course when you got hit in the face harder by your opponent in spring didn't half wake you up! I started to watch back on tournaments members had entered, watching the videos where everybody's screaming for their club member really inspired me and I wanted to be on that podium with that gold medal. So I went into the office (the boss man's office) and I said I want to compete.
"if I didn't train and put 110% into every training session I would get my ass kicked"
That was it - the ball was rolling and the ball was in my court, only I was fighting on the mats, nobody else, just me. So if I didn't train and put 110% into every training session I would get my ass kicked. Which of course could happen - but at least I could say I tried my best and that I had put the time and effort in.
Fight day came, it was time to finally put what I had learnt at the fight clubs and training with David and James in to practice. I felt ready. I had been pushed to my limits by David - especially those liver shots which felt like my insides had been crushed.
After a very long day of waiting, I came out on top and won my first gold medal! I then went onto entering a couple more which resulted in finishing top 3.
Due to work commitments, I had to lay off of the tournaments for a bit. But I still had my next target, my black belt.
'I got glandular fever and lost 6kg... in one week'
On the way to getting my black bet I hit brick wall due to getting glandular fever Christmas of 2016. In just one week I lost 6kg which for me was very dramatic as I had spent so long building up muscle and strength. This was a major set back, not just physically but mentally as well, as I struggled to see the light at the end of the tunnel.
'I came back stronger than ever'
After about 6 weeks of no training I went back to the dojo (Elemental Kickboxing Academy) where David and James gave me a pep talk about how I can comeback from this. With the support from them and my family I came back stronger than ever. I realised I just need to get my head down, keep focused and I would get to where I wanted to be - which I did. I ended up achieving my 1st Dan Black Belt.
After my black belt I kept focused on building that weight back up, from 68kg Christmas 2016 to 83kg Christmas 2017, through some heavy meals and heavy weights! But this is only the start and I'm now working on keeping that lean muscle and building on the kickboxing knowledge and techniques, as the 5 years before my black belt are going to seem like nothing compared to how many years I will be in the world of kickboxing. I'm looking forward to the challenges the Elemental Kickboxing Academy will put me through!
Everyone that is aiming towards their 1st Dan black belt - keep going. Put in the hard work and it will all come together! Also, when David is going mental on your abs - or "de-stressing" by taking it out on you in body conditioning - that really is nothing compared to what you will experience in the black belt gradings ;)