Newsletter November 2019
By: Elemental Fitness Ltd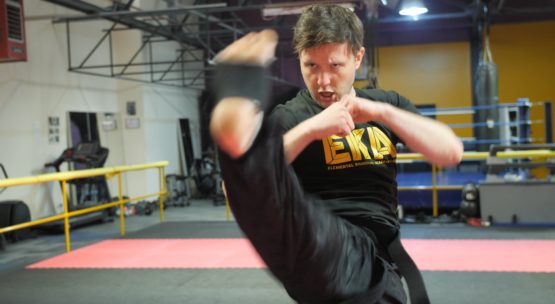 Two months remain of 2019. This is two months' worth of training hard and eating right to set yourself up for the best 2020 you will have. In 2 months, you could do 36 Kickboxing classes, 7 circuit classes, and countless PT sessions. You could potentially lose between 8 and 16 pounds and drop 2% body fat.
All these things can be done if you start now rather than wait for the inevitable January 1st New Years' resolution, which we all know will be forgotten about by February.
What is stopping you? Get a class or personal training session booked today and prep yourself for the new year!
If you're stuck with ideas on becoming a better you then delve into this month's newsletter and get up to date with all that is happening with Elemental Fitness and the Elemental Kickboxing Academy and some ideas to become fitter!
Adults
White, Yellow & Orange Belt Tuesday 19th November 2019 7:00pm - 9:00pm
Senior Purple, Junior Blue & Senior Blue Thursday 21st November 2019 7:00pm - 9:00pm
Red, Green & Junior Purple Belt Tuesday 26th November 2019 7:00pm - 9:00pm
Junior Brown, Brown II & Senior Brown Belt Thursday 28th November 2019 7:00pm - 9:00pm
Children's Gradings
White & Yellow Belt Saturday 23rd November 2019 11:15am - 12:30pm
Orange & Red Belt Saturday 30th November 2019 11:15am - 12:30pm
Tournament News and Fight Club
Next tournament will be the Revolutions North East Championships on November 24th at Parks Sport Centre, Howden Road, Northsheilds, NE29 6TL.
If you are interested in competing speak with fight club coordinators Sanaa or Aidan and visit our Events Page to get more details about this and all other tournaments throughout the year!
Fight Club throughout November will be headed by First Dan Black Belt Aidan. They are still every 2 weeks with the next one being on Saturday 2nd November at 14:00 – straight after the adult's class. Make sure you attend this to improve sparring and prepare for you next competition fight.
These are an important way for Team EKA to come together to practice, talk strategy and build on the team dynamic.
The End of Year Night Out will take place Saturday 14th December. The plan is to assemble at the Original Oak in Headingly for 7 o'clock in the evening.

Following the initial gathering and greetings, we will proceed to being merriment from 7:05pm. This will continue until an alpha of the group appeals for the consortium to make haste towards the next watering hole and resume our inebriation until the last person standing at the end of the night is belting out 'Total Eclipse of the Heart' by Bonnie Tyler circa 1983.
We hope this night to be a great way for all our members, clients, friends and family to come together and get to know each other a little more and make new friends without the worry of being kicked in the face and/or stomach.
November's challenge for the children's class is simple one. Complete the longest horse stance! This will test the children's leg endurance, a staple for a good kickboxer, which will improve the speed and amount of kicks that can be thrown in a fight.
We are impressed by the kid's performance with these challenges and noticed a big improvement in their sessions with behaviour and fitness.
The winner of last month's challenge the oblique twist was Lissy with 59 reps and Leon for the seniors with 71 reps. They have both received 5 stickers to go on his Martial Arts Sticker Chart. Getting that little closer to earning a Martial Arts Badge!
Keep up the good work guys!
Saturday 26th at George H Carnell sports center in Manchester. Tash, Aidan and Jude are representing team GB and the EKA at the WKC World Championships. Starting the day with a weigh-in and team photo our team headed to the mats, first fights for the day were point fighting.
Tash was the only one competing for the category and was thrust into the semi-finals against Team Germany. I hard battle was fought against a worthy opponent, in the end Tash earned a spectacular silver medal and was only down on points by a small margin.
The next day was light continuous with all three performing to the best of their abilities. They waged war against their opponents having to fight harder than in any other competition they had before. In the end, it all paid off, both Aidan and Tash walked away with silver medals. Aidan had only got back into training recently due to a shoulder injury and proved his years of experience training at the EKA and his all-out aggressive style gave him the edge.
Tash is the newbie compared to both Jude and Aidan, however, she demonstrated that she can kick it (literally) with the senior levels and shows no signs of slowing down – can't wait to see what she is like when she achieves her black belt.
As for Jude, well this young lad knows no bounds. He is just unstoppable, competing in numerous tournaments, even having a debut in full contact K1 rules competition. He is humble and respectful to all his opponents and those around him and that is why he got the win for the day in his category and can call himself the world champion!
Catch up on the most recent blogs from staff and members of the EKA.
Visit our EKA blog page and delve into the archive of the martial arts world.
Bring 3 friends to sign up for the 4-4-12 offer and get a free personal training session.
Full Sparring Kit for £89.00 - saving you 20%.