Newsletter May 2019
By: Elemental Fitness Ltd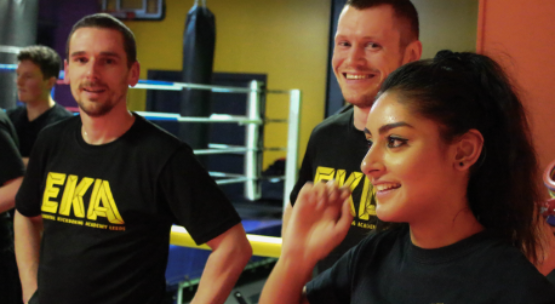 It's lovely and warm now, which means the gym is going to be very toasty indeed. Remember when we got the shorts ordered in for last year just as winter started to come around? Well, this time were prepared, with stock ready, for you guys to show off all those hours working legs at the EKA! Here is the breakdown of what has happened recently with both Elemental Fitness and the Elemental Kickboxing Academy, and what you can expect in the coming months

Adults
White, Yellow & Orange Belt Tuesday 21st May 2019 7:00pm - 9:00pm
Senior Purple, Junior Blue & Senior Blue Thursday 23rd May 2019 7:00pm - 9:00pm
Red, Green & Junior Purple Belt Tuesday 28th May 2019 7:00pm - 9:00pm
Junior Brown, Brown II & Senior Brown Belt Thursday 30th May 2019 7:00pm - 9:00pm
Children's Gradings
White & Yellow Belt Saturday 1st June 2019 11:15am - 12:30pm
Orange & Red Belt Saturday 8th June 2019 11:15am - 12:30pm
Tournament & Fight Club News
More medals, every tournament we have done we have always come back with medals, which should be a testament to the quality of our members.
This time it was Nikita and Jude. Jude did his usual best and obtaining gold once again proving what such a formidable force he has become. Along with him Nikita was awarded silver after two incredible fights.
This is Nikita's first medal after many tournaments and were happy all that perseverance paid off and he finally got recognition for his efforts.
Well done to you both.
Next tournament will be the Revolution Tournaments - Yorkshire Championships in Scarborough. Located at the Sports Village, Ashburn Road, YO11 2JW Scarborough, North Yorkshire.
If you are interested in competing speak with fight club coordinators Sanaa or Aidan and visit our Events Page to get more details about this and all other tournaments throughout the year!
May's challenge for the children's class will task the little ones to work their core strength. They will need to do 10 sit-ups and hold a plank for as long as possible.
We are impressed by the kid's performance with these challenges and noticed a big improvement in their sessions with behaviour and fitness.
The winner of last month's challenge was Filip he has received 5 stickers to go on his Martial Arts Sticker Chart. Getting that little closer to earning a Martial Arts Badge!

Thanks to all that came out for the EKA gathering. Hair was let down as was our guard (don't let that become a habit in class though). The night went well into the wee hours of the morning finishing with a fun game of 'beer pong' – which James absolutely destroyed everyone at.
Our aim is to try keep this as recurring thing for all our members and clients of both the EKA and Elemental Fitness. We hope to organise the next gathering for summer time – hopefully have better weather an get to use the beer garden too. We enjoy these get-togethers and know it is a brilliant way for members to meet other members in a different surrounding.

With both David and James continually keeping EF and the EKA going, arrange these nights can take time. If you would like to help out please email us at info@elemental-fitness.com with your ideas.
Bring 3 friends to sign up for the 4-4-12 offer and get a free personal training session.
Full Sparring Kit for £89.00 - saving you 20%.