Newsletter: June 2022
By: Elemental Fitness Ltd healthandfitness, platinumjubilee, kickboxingleeds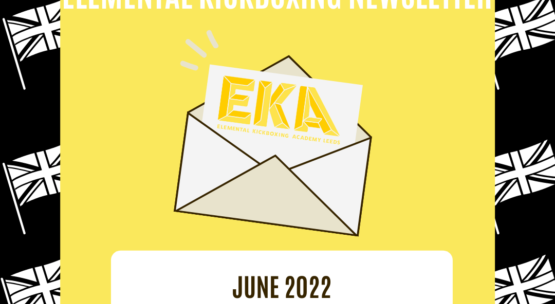 Welcome to the Elemental Fitness and EKA June newsletter, hope you're all prepped for the long weekend coming up? With any luck the weather is nice enough for some outdoor activities and an opportunity to get the barbeque out in celebration.
Things to look forward to from us, after the extended break, involve the next set of gradings in the second week and then to finish June off, the 4 plus hours of black belt grading on the 25th, and the inevitable celebrations that will come after!
As many will be aware the Thursday 16:30 kid's and 18:00 adult's classes will not be running due to the Queen's Platinum Jubilee. We will be open for the Saturday 4th for both the Kids 10:00 and Adults 11:30 classes.
Those wanting to get their sparring fix from the Thursday should head down to Stu's Monday 19:30 class. This class also focusing on sparring techniques, drills, and combinations to put into practice.
We have noticed a few of you starting the new Kickboxing: Strength & Mobility programme to help with adding power and height in those kicks, some of you achieving some impressive results.
This package covers all training aspects to start seeing a vast improvement in those starting out; teaching the basics and implementing good form; to those that have been training a while and need a little push with higher training frequency.
Click here to get the Kickboxing: Strength & Mobility Package now for £14.99.
The EKA and its members are heading to Jump Inc. The massive trampolining park in Leeds will be our first major event for the entire club, not just a few beers at the local, this means the little ninjas can join in (don't worry big ones, you can join too).
The best thing is, we got you a discount, normally £13.50 if you sign up before the 4th you can join us for only £9.00 per person
To join in the fun, please speak to an instructor or email ryanbutler@elemental-ftienss.com to get your name down.
It is also an opportunity to see your instructor bounce around making fools of themselves. (Well, more of a fool for certain instructors)
Here are 2022 second set of gradings, make sure you check the website for more details..
Monday 13th June 2022
Kids white & yellow 1630
Adults white & yellow 1800
Tuesday 14th June 2022
Kids orange & red 1630
Adults' orange & red 1800
Wednesday 15th June 2022
Kids green 1630
Adults green 1800
Thursday 16th June 2022
Kids Junior & Senior Purple 1630
Adults Junior & Senior Purple 1800
Friday 17th June 2022
Kids Junior & Senior Blue 1630
Adults Junior & Senior Blue 1800
Saturday 18th June 2022
Kids Junior & Brown 2 & Senior Brown 1000
Adults Junior & Brown 2 & Senior Brown 1130
Black Belt Gradings. Check the site for more details.
Saturday 25th June 2022 08.00 - 13.00
1st & 2nd Dan Black Belts
In the last week of May we had club member and Black Belt Arron Martin start his work experience. Helping with the running of Elemental Fitness with tasks such as gym administration, facility organisation and content creation, Aaron also used his time to observer PT sessions and help with Classes.
We hope the week gave Aaron a glimpse into the working life of a personal trainer/martial arts instructor and he learned a few things to assist in his career path…failing that Aaron did tell us he wants to be an actor.
If you are interested in or know someone that is going through their work experience week let us know by emailing info@elemental-fitness.com
20% off your first 10 block of PT sessions with Ryan when you purchase the Dumbbell Phase 1 programme?
EKA Members get 30% Off!
Get phase one here.
Offer runs from 01.06.2022 - 30.06.2022 Terms & Conditions apply.
Not currently up, but, as part of his work experience, Aaron was tasked with researching into military training techniques and how they incorporate martial arts. From there he broke down how this could be implemented into training techniques for the everyday person and the benefits of that style of training.
An interesting read so be sure to check it out when it goes live in a few weeks. Head to the blog page now to see our other blogs including our most popular one on the king of exercise the Deadlift.