Newsletter July 2018
By: Elemental Fitness Ltd kickboxingleeds, martialartsleeds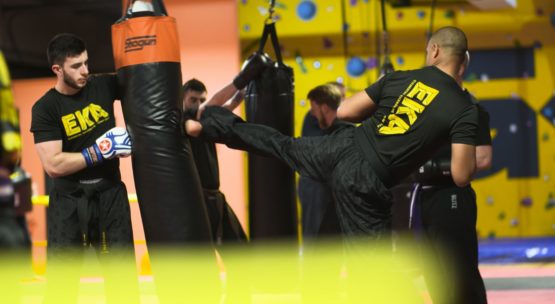 Notice anything different? Yes this is the new format of the Elemental Fitness and Elemental kickboxing Newsletter. We will have links to blogs and other cool things that will be on our Elemental Fitness and Elemental Kickboxing Academy websites.
Elemental Fitness operates full time Personal Training and Martial Arts Tuition in a great location 5 miles outside Leeds city centre with outstanding instructors and a commitment to providing excellence in both teaching and facilities.
We aim to open a number of new children's classes at our existing facility and are recruiting an instructor who wants a career in martial arts, fitness & health. We expect our instructors to be committed to their classes and provide cover to other instructors when needed. The position will initially be for 15 hours per week, however there will be scope to grow your responsibilities and we hope through hard work and determination the position will grow to full time hours.
At Elemental Fitness our aim is to create a working environment where people are committed to a common goal – a place where they are passionate about what they do, believe they can make a real difference to the success of the business and create a unique customer experience.
To find out more please check out the job description
Watching your older sibling having fun in a kickboxing class can be a 'drawn' out process for many of the younger kids. Therefore, we are now offering colouring crayons for the little ones that are not old enough to join in or don't feel ready yet.
Parents are welcome to join in if they wish to do so. We may even start a competition for those that can draw some awesome kickboxing themed pictures.
The Chloe Bruce seminar has been rescheduled. New date to be confirmed. Keep your eyes peeled, and visit the EKA Group Page for event information!
For those new members of the club, back in April we did some filming for a promotional video for the Elemental Kickboxing Academy website. Club member and professional videographer Rob Worsey and his colleagues helped with this task.
Over three separate club sessions we gathered hours of footage to make an exceptional little film with interviews from instructors and members as well as some seriously awesome shots of the club in action. The full video won't be on the site for a little while but to give you a taste of what Rob has been doing visit our YouTube Channel and Facebook Group to look at this 20 second teaser.
The EKA now has 5 new First Dan Black Belt's. After a year of training and prepping Ryan, Sanaa, Aiden, Matty and Craig moved on to the fabled Black Belt. It was a tough grading that included a KATA performance that had an excess of 100 moves! Spirits where broken and all of them were physically and mentally challenged. However, each one of them conquered their own fears and came through on top.
Becoming a black belt isn't decide on the day of the grading. This is just the last bit of the test. It isn't even the year gap between the senior brown and your First Dan. You are graded for that first-degree Black belt as soon as you step through those club doors. When you first meet your instructor, it is at that point they are watching you, seeing how you develop over the 4 and a half years from white to black. For the 5 that have recently attained this status they have been moulded into exceptional well deserved black belts, but the journey isn't over... now starts the true test!
Along with 5 new First Dan's the EKA has a new second Dan instructor. Well he isn't completely brand new, but he did finally trim his beard. Yes, our resident Viking James was awarded his Second Dan after 2 years of hard graft working at Elemental Fitness as a Personal Trainer and The Elemental Kickboxing Academy as a kickboxing Instructor.
James said ''...becoming a Second Dan was a realization that the work put back into the club/martial arts community is potentially as important if not more so that your own personal progression in technique or fitness. Yes, you must have a level of skill and ability to prove you haven't wasted any time during the years between the little yellow stripes that get added to your belt. However, whatever level you're at, be it 1st, 2nd or even all the way up to 8th, your all still black belts. It's just that those that have more stripes have done it longer than you and the majority, if not every single one, has put more back into the martial arts community/their own clubs than they got from it. And that's what it is about - making more black belts.
'A person who uses strength or influence to harm or intimidate those who are perceived by the bully to be weaker...'
'The Japanese word for 1st dan is Shodan1, which means simply "Beginning degree". It is the reward that comes at the end of a flexible period of training and learning, both physically and mentally...'
'Knowing is not enough; we must apply. Willing is not enough; we must do'
If you know of three people that would like to join the club, who are looking to get fit whilst enjoying socialising, the EKA is for them. Bring them in and get them to sign up for the 4 for 12 classes.

If you do this, you'll get yourself an entire P.T session free that is worth £28.00! Just for getting three people signed up. Don't have friends, no need to worry. You just need three people. A neighbour, your hairdresser, that guy who came to fix the plumbing that time. Do this and get a P.T. for free.

Please make a reference of the new members you bring and notify David or James on their first session and they will book you in for your free P.T. session. Terms and conditions apply, please speak to either David or James for more information.