Newsletter January 2019
By: Elemental Fitness Ltd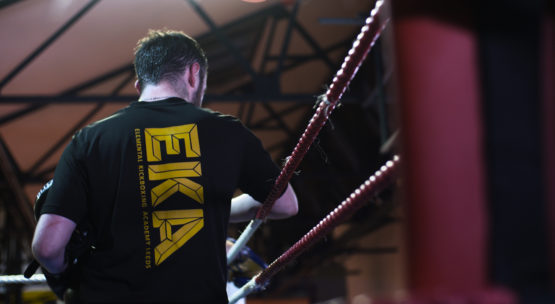 2019 is here. New year, new you yeah? If you want help with that then we are here for you at Elemental Fitness and the EKA! New Years Resolution to get fit? Then join as a personal training client at Elemental Fitness. Wanted to pick up a new skill? Then join the EKA to learn freestyle kickboxing. Whatever your needs to improve your 2019 we are there for you.
Adults

White, Yellow & Orange Belt Tuesday 19th February 2019 7:00pm - 9:00pm
Senior Purple, Junior Blue & Senior Blue Thursday 21st February 2019 7:00pm - 9:00pm
Red, Green & Junior Purple Belt Tuesday 26th February 2019 7:00pm - 9:00pm
Junior Brown, Brown II & Senior Brown Belt Thursday 28th February 2019 7:00pm - 9:00pm
Children's Gradings
White & Yellow Belt Saturday 23rd February 2019 11:15am - 12:30pm
Orange & Red Belt Saturday 2nd March 2019 11:15am - 12:30pm
Sam Graham to Return with Martial Krav Maga
Sam Graham of Martial Krav Maga in Bradford is coming to the EKA to hold a seminar in the art of Krav Maga Self Defence.
Sam spent 10 years as a Royal Marines Commando, during which has experienced first-hand what conflict is like, both unarmed and armed. He has always been interested in combat sports and as such throughout his career in the Marines dived into as much different combat courses as possible as well as tactical defence and restraint courses. He found Krav Maga whilst in the Marines and straight away fell in love with the system due to its simplicity and realism.

If you are interested in learning self-defence Krav Maga please speak to either David or James at the club or email us at info@elemental-fitness.com. Tickets are £18 per person with maximum space of 25 members. Get your tickets here https://www.paypal.me/ElementalFitnessLtd/18 or see David or James. Deadline for payment is Thursday 24th Jan.
2018 for the Elemental Kickboxing Academy was a great year. Early in the year Sanaa, Aidan, Craig and Matthew all graded for their first black belt with James joining in grading for his second making the EKA have a total of 16 members at black belt level!
We also expanded the club with 3 new members of staff - Sam, Sanaa and Ryan which allowed the EKA to increase the number of kid's classes and introduce a more consistent Fight Club for members.
New equipment included several new bags for the children's classes as well as the big Bob Punch Bag adding more variety to the sessions.
In the middle of the year club member Rob Worsey gave the EKA its 15 seconds of fame with filming the EKA promotional video that was front and centre on the fancy new EKA website.
Closing the year, we triumphed at the North East Championships winning club members Natasha, Sanaa, Will and Aidan achieving a gold, 2 silvers and a bronze making us all very proud of them.
What a year we had, and these aren't all the bits that happened. To see what else went down in 2018 look at our blogs and social media pages for the full taste of 2018.
What did you find the best bit of 2018 was? Let us know on our Facebook Page.
2019, What to Expect at the EKA
With 2018 now behind us we look forward at some of the interesting things 2019 will bring to the EKA.

To start off we are going to be having a dedicated fortnightly Fight Club after the Saturday adult's class at 14:00 until 15:00. These Fortnightly fight clubs will be free to fully affiliated members of the EKA to help with sparring for grading as well as tournaments.
Speaking of tournaments, with the ever growing EKA team more tournament dates have been announced see below for all the dates at Revolution, WKC and WAKO.
27 January
WKC 11th Open National Championships, venue TBC
24 February

Revolution English Championships, Worksop
07 April

WKC 4th Youth Games Open Championships – Under 21 only, venue TBC
12 May

Revolution Yorkshire Championships, Scarborough
14 July

WKC Open European Championships, venue TBC
08 September

Revolution High Peak Championships, High Peak
22 September
FSK Open Grand Championships (WKC), venue TBC
October
WAKO, date and venue TBC
24 November

Revolution North East Championships, North Shields
With last year being so busy we didn't have time to fit in many social gatherings for club members. This year we hope to change that by having at least 3 (a spring, summer and Christmas night/day out) to allow all members and staff to get together and let their hair down.

That's not it though, we have more planned and most exciting for us are the things that are not planned for 2019!
What are you most excited about? Let us know on our Facebook Page.
Last year we started the new children's classes with our new instructor Sam. Starting the year, we hope to really grow these classes and get the next generation of team EKA on the go.

We have been distributing flyers amongst local schools and with the help of members. This is where you guys count the most. Word of mouth and recommendation will help see our club grow exponentially which will only improve the services we provide.

If you would like to know more on how to help with the flyer distribution or have ideas on how to gather new potentiality members get in touch at info@elemental-fitness.com
Bring 3 friends to sign up for the 4-4-12 offer and get a free personal training session.