Newsletter: December 2021
By: Elemental Fitness Ltd newsletter, healthandfitness, kickboxignleeds, martialartsleeds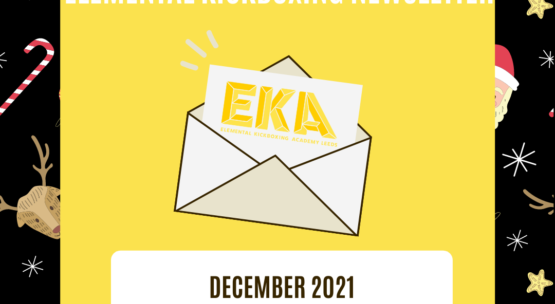 Christmas is upon us…have you sorted your Christmas shopping out? No? Same here.
Stuck for ideas, then let us help, we have martial arts equipment for those of you that have a kickboxer in your life. Perhaps you want to gift someone a few 1 on 1 sessions in personal training or kickboxing tuition (see below for new offer), maybe go all out and give them the full works with several months of training with us at the club and some remote online PT?
Don't go simple and buy that Lynx Africa set or bath bombs, instead, think outside the kickboxing…or maybe you want to treat yourself this Christmas...?
Let's get to it!
Note: Elemental Fitness and the EKA will be closed Friday 24.12.21 to Monday 03.01.22 (inclusive)
All class are going well with a slight surge of newcomers before the year is out. Good to see people aren't winding down too much and gearing themselves up for what is usually a time of indulgence and parties…this is fine, we all need to have a good time off, especially with the last few years we have had.
From 2022 there are plans in place to really push our classes and start bringing a high level of quality and standards across them to drive gradings and the possibility to get back into competitions – keep your eyes peeled.
Keen eyed will have seen an offer recently on our app for the first four classes for £15 to £9!! This is the start of even better things to come. We plan to push offers and member/client loyalty rewards on the app with focus to assist those that want more from their training.
This includes gym access to the Elemental Fitness facilities for members of the club and personal training clients. Look out for an offer in the new year that will give you a free personal training program with access to the EF gym. To view all current programs, offers and services check out the EF online store front now
November's ninja burpees challenge was tough on the kids. Normal burpees are tough, so these really tested the fitness levels of the young ones. Winner for November is Luke Jackson, with a total of 28 in the minute. That is very impressive.
To finish off the year with the last kids class challenge of 2021, we are going for the most jump squats in 1 minute. Seems like Ryan isn't going to let the Christmas vibe prevent him from punishing the kids with intense challenges.
Good look little ninjas.
This segment is usually for a few individuals who have gone above and beyond in their training or surpassed expectations. However, we want to give a special mention to all of you.
As we have all been though a tough 18 or so months it is you guys, our members, that have stuck by us and helped us through it all with continuing payments. For that we are offering a massive 50% to club members and EF clients to all our online training services.
To claim 50% off please email info@elemental-fitness.com and type 50% Loyalty Reward in the subject line and let us know which programme you would like 50% off from. Simple. Now go and treat yourself and see which online programme you could get for half price.
T's & C's Apply Offer ends 05.12.2021
Only a few days now until we start the last set of gradings please make sure you purchase your grading fee before booking you grading.
Kids at 16:30:
White & Yellow Belt – Monday December 6th
Orange & Red Belt – Tuesday December 7th
Green Belt – Wednesday December 8th
Jr. & Sr. Purple Belt – Thursday December 9th
Jr. & Sr. Blue Belt – Wednesday December 15th
Jr., Sr. & Brown II Belt – Thursday December 16th
Adults at 18:00:
White & Yellow Belt – Monday December 6th
Orange & Red Belt – Tuesday December 7th
Green Belt – Wednesday December 8th
Jr. & Sr. Purple Belt – Thursday December 9th
Jr. & Sr. Blue Belt – Wednesday December 15th
Jr., Sr. & Brown II Belt – Thursday December 16th
Grading dates can also be found in the company calendar section of our app where you will need to book your classes. All gradings are titled gradings and highlighted in green.

Just use your credits to book in as you normally would for a class.

The team are now preparing for the end of 2021, with the club closing for Christmas and setting up for the New Year. Grading starts next week so expect to see David's stern head instructor face, judging your every move – no pressure there then.
We also have a date for the return of the EKA/EF Xmas night out – December 18th at the Original Oak Headingly, meeting for 7:00pm. This is a great opportunity to see instructors in a different light…such as strobe lights…depending on how the night goes, admit it we all want to see the instructors' throwing shapes in the church of dance. All welcome, must be over 18 for obvious reasons.
Two new blogs from last month to catch up on. First off is a look into why Monday class instructor Stu Wright became a personal trainer and why it's never too late to get in shape.
Second blog introduces new collaboration between Twist Physioand Elemental Fitness. Learn all about Rebecca and how she can help with those injuries we sometimes acquire partaking in kickboxing.