Building confidence in kickboxing
By: Paul Glossop kickass, fitnessjourney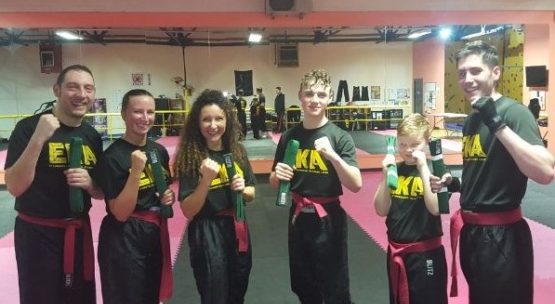 Paul Glossop, in his 40s, tells us about how in his time kickboxing, he's seen some members get to Green/Senior Purple belt and then stop their grading journey - and a lot of it seems to be down to confidence.
This confidence can sometime be hit by comparing yourself to others, judging yourself and stopping yourself from moving forward. Paul touches upon that, if you focus on yourself, put in the work, practice, take on board advice, get to know fellow members, then you can bounce back from injury and overcome a dip in confidence… he may not a black belt machine (yet) but hopes this blog helps to inspire someone to get to the next belt.
You've got this!
Have you suffered a wobble in your Martial Arts journey? I have, about a year ago or so, I lost much of my confidence. Browsing the web one day, I came across an article that suggested maintaining a training journal and I decided to give it a go. I recently read it back to myself and wondered if I can draw on some of it to help anyone else who might be going through a similar experience.
Looking back, I'd always wished I'd trained in a Martial Art, but never being the most confident kid growing up, fearing the unknown and having visions of stepping into a Cobra Kai dojo, it was a road I never travelled down.
In 2016 my, 13-year-old stepson, Jude, after trying Street dance, Football and Rugby, told Fiona (my wife) and I, that he wanted to try Martial Arts. I contacted several places offering a variety of styles, but it was David at Elemental Kickboxing Academy who was the most approachable and open person I spoke to and he gave me a very good impression of the club.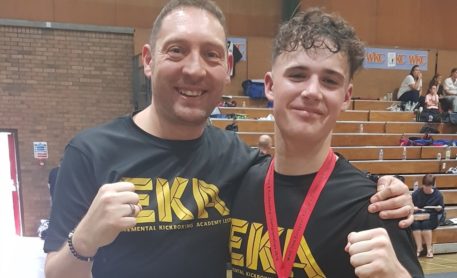 So, at the age of 37 on a scorching night in June 2016 and feeling apprehensive, Jude and I attended our first class. The first thing that struck me was the just how friendly, welcoming and encouraging everyone was.
Feeling comfortable straight away, I became a member and threw myself into it. The atmosphere at the club made it a great environment to train in and I really enjoyed the classes.

Jude found his passion, it brought us closer together and although my initial intent was to simply learn how to defend myself, in November 2016 we graded together for our White Belts. I felt a sense of achievement that is difficult to explain, and it got me hooked.
Almost a year later, I was a red belt with momentum and was part of a group on the same journey in terms of grading, and my confidence was high.
However, the evening of 20 October 2017 I unfortunately suffered a nasty injury dislocating my shoulder. This was a recurrence of an old injury that had been surgically repaired 13 years earlier - a huge blow.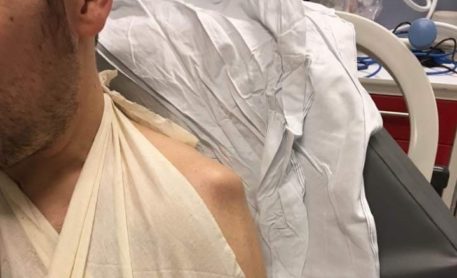 Thanks to physiotherapy, hard work and encouragement at the club I was able to get back to training within a few weeks and grade for Green belt and later Junior Purple belt. From previous experience I knew I was likely to be on borrowed time before the injury would happen again (and again), and it's not a pleasant experience.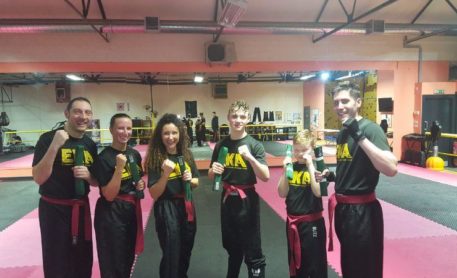 It left me with a dilemma; do I continue to push myself and stay on the same grading level as Jude and the group but risk injury affecting my long-term goals or do I have a surgical revision to repair my shoulder and take a few months off to recover halting my short term progress and no longer grade with the group.
I spoke to the instructors and to a recent black belt gradee a similar age to me and they gave me a boost and helped me make my mind up. I decided to have the surgery, and I know it's a cliché, but my attitude was that I will come back stronger.

My recovery felt slow, I was unable to train for 3 months and unable to participate in contact sport activities for 6 months. My confidence took a huge dip, sitting on the sidelines and then limited to what I could do when I returned to training, I was feeling rusty and everyone else seemed to be flying.
My next grading target was going to be Senior Purple belt and I wasn't feeling sharp, I felt I had fallen behind, I was struggling with sparring and worried about the set kata. In all honesty I was very close to quitting grading, I didn't have the belief in myself.
I was given some advice about Martial Arts being your own personal journey, this really hit home, and I took some time to reflect.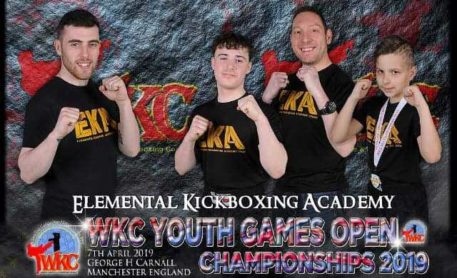 Jude began to compete at events which was exciting and made me even more proud of him, and it got me involved with Team EKA and Fight Clubs. I wanted to get to know people at the club and introduced myself and welcomed new members, helping and encouraging them during classes.
I wrote and maintained a training journal setting myself goals and reflecting on my training, and how I had performed. I could feel my confidence returning, and the encouragement from instructors and fellow members was unreal, it really spurred me on to get back on the horse in terms of grading.
I put in the time practicing and training both inside and outside of the club and in November 2018 graded for my Senior Purple belt. It is the grading I have been most proud of so far, and a demonstration that you can overcome injury, a setback, a lay off and a wobble in confidence.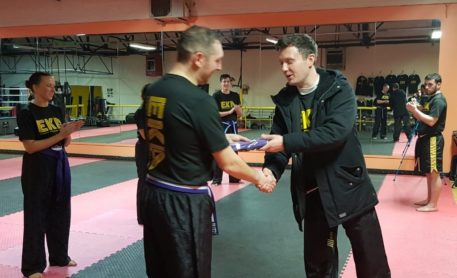 'I received some more great advice about katas and sparring recently from EKA instructors'.
---
When I chat with people at the club, sparring and the kata seem to be the main causes of apprehension and a barrier for people wanting to progress the belt ladder, they were certainly mine leading up to that Senior Purple Belt.
---
There are members I simply can't compete with when it comes to sparring and I chatted with 2nd Dan Black Belt James about it.
He advised me to set a target - can I get two clean hits in here or can I execute a certain combination there and at a recent class I did just that and even though certain partners were getting the better of me, I was still pleased with how I'd done achieving those targets and gave myself credit for it.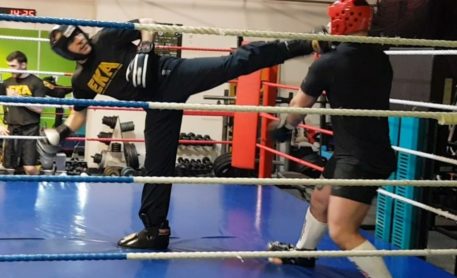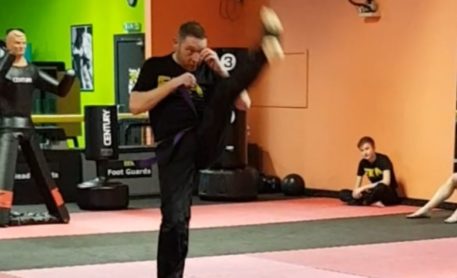 Similarly, with the kata, I was advised that a kata is your own and an opportunity to demonstrate your strengths. I am unlikely to be as sharp as some others or execute certain spectacular jump spinning techniques. I like to think one of my strengths is preparation, I make sure I put in the practice.
Thanks to these pieces of advice, I went into my latest grading the most confident I have ever felt. During my latest kata, I forgot my next move and there was a pause, however I'd practiced it so many times I knew it would come to me, I remained composed using the pause to create some suspense whilst I recollected my thoughts and carried on as if that was part of the performance.
I try make noise with techniques I perform such as when I land after an Axe Kick and shout KIAI with a purpose, hopefully at the very least creating a show for the audience and instructor.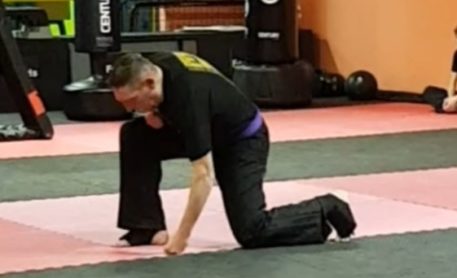 If someone is reading this and fancying Martial Arts, you have to start somewhere, and it's never too late to start. If you have faced a setback or a lengthy lay off, you can come back stronger, don't compare yourself to others or think you need to keep up - it really is your journey.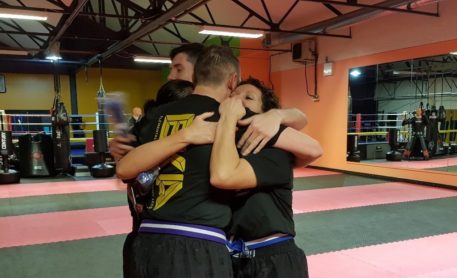 Try a training journal and set yourself some goals, take on board the advice you are given, take time to prepare both in and outside the club, get to know your fellow members better because they are a great support network and inspire confidence, believe in yourself and don't give yourself a hard time, pat yourself on the back sometimes and keep practicing and training…
'Practice doesn't always make perfect but it certainly makes you better'.
- Paul Glossop, Blue Belt at the Elemental Kickboxing Academy, Leeds
---
FROM THE EKA TEAM ->
If you're feeling a bit of a wobble yourself, have a chat in confidence with any member of the team or email us. We want to help you succeed on your fitness and kickboxing journey, so anything we can do that will help you excel, we will.