Elemental Kickboxing Leeds Club Licence & Syllabus redesign
By: Elemental Kickboxing Leeds elementalkickboxing, kickboxingleeds, kickboxingclasses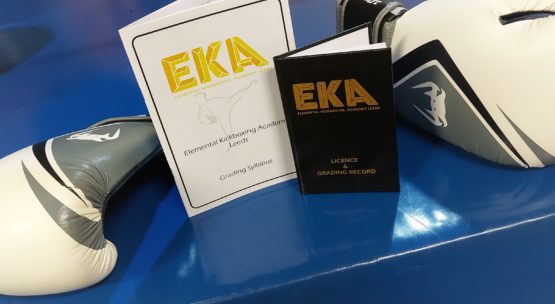 Alongside all the new paintwork and equipment in the Elemental Fitness facility the club has managed to release its new Club Licence & Syllabus! We're excited for the refresh and hope you like it too!
We've been working hard revising the clubs current syllabus and pleased to have our 2021 version now available for purchase. New members from 01 June 2021 (reflected on direct debits starting 28.05.21) will receive their club syllabus free of charge as part of their first years club affiliation fee's, however members who joined before 31 May 2021 (reflected 28.04.21) will be required to pay a small fee of £3.50 for the updated version. The new syllabus is not mandatory, however we would highly recommend you purchase your own when planning to grade.
If you have the previous club licence you can continue using this, however we are happy to replace your old licence with the new version for £6.00 and sign the relevant sections. Unfortunately we can not replace licences free of charge due to higher production costs.
The order of all belts and many of the technical aspects required for each grade have stayed the same. The key change to the club syllabus is the club kata requirements. The club kata has completely changed for red, green, junior purple, senior purple and 1st dan black belt. Steps have been taken to ensure technical requirements meet the relevant grade criteria but the kata forms have been condensed to allow for more emphasis on the technical element for both children and adults. This involves one set kata for red, green, junior purple and senior purple (no longer a continuation of the kata for each grade) and a return to all kata forms as one longer piece when grading for 1st dan black belt.
The Elemental Kickboxing Leeds club prides itself in teaching a wide variety of training approaches, this can include line work, partner work, pads and strike shield work, bag work, ring based training, light continuous sparring and point fighting to name a few, we appreciate the benefits kata forms have but we felt after a few years exploring a more complex kata form it was time for the club to return to its roots by finding a improved balance between line work, sparring, pad drills and kata forms (for example) when preparing for gradings. We want to encourage all members to grade by providing a well balanced syllabus.
We appreciate existing members will have invested time in learning and developing the previous Kata form in particular and may feel at a disadvantaged when grading for their next belt. We apologise in advance if you feel this way and want to reassure all members considerations will be made when marking members for their next grade if they haven't had much time to prepare for the remainder of 2021...however, we know their would never have been a convenient time to make this change but after 18 months off gradings for many, now may be the better time if there is such one. Overall we feel confident on review of the updates and you will adapt quickly with the support of an instructor.
Finally, please note members grading for their first dan black belt in 2021 will be given the option to demonstrate either kata form.
We look forwards to moving ahead with the new club syllabus and hope you do too.