Newsletter July 2019
By: Elemental Fitness Ltd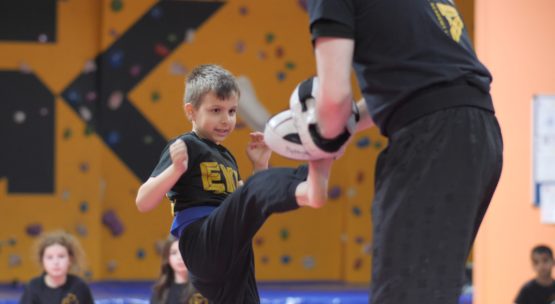 Officially summertime now meaning hot sweaty sessions at Elemental Fitness and the Elemental Kickboxing Academy. Great opportunity to buy some Team EKA Top Ten shorts! Other than things heating up EF has a new member of staff joining the ranks, exciting times!
EKA's 7th Black Belt Grading
Massive congrats to both Elliot and Aaron for achieving their 1st Dan Black Belts.
They are the youngest black belts of the EKA however that did not stop David from giving them the full black belt treatment.
There was plenty of tears countered with plenty of laughter. 4 hours of ups and downs finishing the day with 26 rounds of sparring, the last round having to fight against 5 full grown men. It was an ultimate test of physical and mental strength which both pushed through.
It is a testament to how well the EKA, it is instructors and members have guided these two to this level at a young age. Even though it was only Elliot and Aaron going for their belt it is a joint effort from the club members to make it happen.
Congratulations to both and thanks to all who took part and supported them through it.
Even though May's grading felt like it was yesterday we are now prepping for the summer grading which will take place at the back end of August.
Remember that we have classes Monday to Thursday 19:00 – 20:30 and Saturday 12:30 – 14:00 with fight clubs every other Saturday after the 12:30 adults' class. In other words, there are enough classes to help build technique and fitness to smash your grading.
We even have children's classes dedicated to Kata and sparring to help the little ninjas too. If you even need guidance with grading, you can always try speaking with the friendly instructors or pop in the office for a quick chat with James or David to help motivate you.
Tournament & Fight Club News
As always, the team are making the EKA proud never leaving these events empty handed and the support from each other is amazing. This also shows in the EKA Fight Clubs too with a high attendances and regularity which the club has never seen before, showing us just how well Team EKA is bonding.

Keep it up!
Next tournament will be the WKC Open Championships in Manchester. Located at the George H Carnall, Kingsway Park, Urmston, Manchester, England M41 7FJ.
If you are interested in competing speak with fight club coordinators Sanaa or Aidan and visit our Events Pageto get more details about this and all other tournaments throughout the year!
July's challenge for the children's class will mimic the full Elemental Fitness challenge with lots of cardio and roundhouse kicks: each child has one minute to complete as many roundhouse kicks as possible with shuttle runs in-between adding extra kicks every time they return to the bag.
We are impressed by the kid's performance with these challenges and noticed a big improvement in their sessions with behaviour and fitness.
The winner of last month's challenge was Filip, he has received 5 stickers to go on his Martial Arts Sticker Chart. Getting that little closer to earning a Martial Arts Badge!
The EKA will be at the Family Fun Day event on the 6th July to promote the club. Expect demonstrations, the chance to chat with members and instructors and the EKA raffle (more about below).
We hope to spread the word of EKA and illustrate the benefits of martial arts training to everyone and encourage those to start something new and exciting. Please come down to show support and obviously have lots of fun!
EKA are having a raffle to promote the club at the Family Fun Day event at Stanningley Park on 6th July.
We are giving our members 2 weeks early access to the raffle tickets as a thank you for support over the years. Here is what you will have a chance of winning:
-First place is £100 Gift card to use at Elemental Fitness
-Second place is two full 1-hour PT sessions worth £56
-Third place is a Team EKA Trainer T-shirt worth £25
Winners will be drawn on 13th July, the day after tickets sales stop. If you are interested and would like to buy tickets, you can so from the 17th June either; at the club from your instructor, by card over the phone (07402249601) or via our PayPal links below.
For a single a ticket – https://www.paypal.me/ElementalFitnessLtd/2.00
For 5 tickets – https://www.paypal.me/ElementalFitnessLtd/5.00
For 20 tickets – https://www.paypal.me/ElementalFitnessLtd/10.00
Best of luck to all and we hope you can make it down to the Family Fun Day in July.
Catch up on the most recent blogs from staff and members of the EKA.
Last month, Dale goes through the all-time great martial arts movies to watch and get you pumped for training.
Bring 3 friends to sign up for the 4-4-12 offer and get a free personal training session.
Full Sparring Kit for £89.00 - saving you 20%.