Newsletter September 2018
By: Elemental Fitness Ltd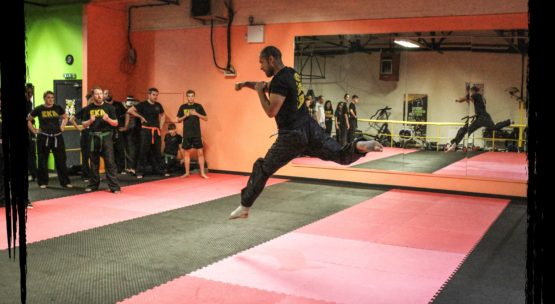 Holiday time has come to an end, we all had fun but now its back to work, back to school and most importantly back to training at the EKA!
Film Yourself on the EKA GoPro
Ever wanted to see how you look during a jump spinning outside crescent kick? Or what the outcome would have been of that last sparring match had you kept your guard up all the way through?
Filming yourself is a brilliant way of improving your technique, seeing other fighters' patterns, strengths and weaknesses and also is a great way to show off something you might be proud of accomplishing.
In the corner of the EKA studio you'll find a GoPro camera on a very large tripod to do all these things. We want to encourage members of the club and P.T. clients to start filming and taking pictures of themselves for their own benefit and for the benefit of the club - to show to potential newcomers the awesomeness that is the EKA!
Ever thought that those jump squats were too easy? Yeah us neither. However, for those that want to push harder then how about throw a medicine ball into the mix? Or perhaps you want to improve footwork - then agility ladders will be the place to go.
Equipment isn't always necessary for improving yourself, but it certainly makes training fun and adds tons of variety.
Amongst the new equipment we now have a heavier battle rope, heavier medicine ball, more agility ladders, floor markers, a sled and much more. We are not stopping there either. We plan to improve the quality of our training and classes with more equipment, and if you have any ideas then speak up and let us know!
It's always the case, you get a pair of new shorts to enjoy this lovely summer we've been having and then you have non-stop rain. Well, luckily it isn't that bad, and these shorts aren't just for going out to barbecues.
These shorts have been requested for some time now and the heatwave has beaten both David and James into submission to get some. However, it isn't as easy as popping over to sports direct and grabbing a pair of Nike shorts. They must be tested and work with the club kit to keep things uniform.
We hope you like the look of them and don't worry about thinking you're too late as the summer is nearly up. We will always push you so hard you will sweat from your knees.
Krav Maga Self-Defence Seminar
Sam Graham of Martial Krav Maga is coming down to the Elemental Fitness gym to hold a seminar in the art of Krav Maga Self Defence on October 25th.
Sam spent 10 years as a Royal Marines Commando, during which has experienced first-hand what conflict is like, both unarmed and armed. He has always been interested in combat sports and as such throughout his career in the Marines dived into as much different combat courses as possible as well as tactical defence and restraint courses. He found Krav Maga whilst in the Marines and straight away fell in love with the system due to its simplicity and realism.
If you are interested in learning Krav Maga please speak to either David or James at the club or email us at info@elemental-fitness.com. Tickets are £18 per person with maximum space of 25 members. Go to https://www.paypal.me/elementalfitnessltd/18 to pay online. Deadline for payment is Thursday 11th October. Deadline for payment is Thursday 11th October.
Catch up on the most recent blogs from staff and members of the EKA.
Last month we had an article on a recent position opening at EKA… maybe you could be our next instructor, or perhaps you know someone who wants to pursue a career in fitness? Go to the blog now to see more information.
Bring 3 friends to sign up for the 4-4-12 offer and get a free personal training session.