Newsletter October 2018
By: Elemental Fitness Ltd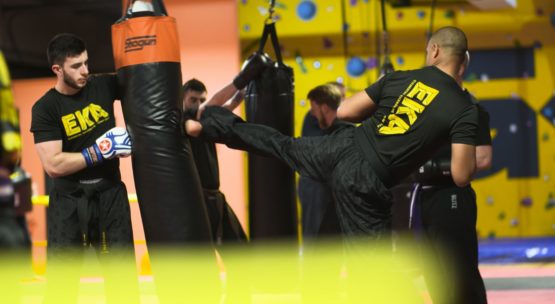 Summer has ended, winter is coming! Warm things up with training at Elemental Fitness and the Elemental Kickboxing Academy.
Some amazing performances at the most recent grading. Many of you climbing that ladder to your first Dan Back Belt and a few of you just beginning your journey. All of you should feel proud either way.
Videos of Kata's and sparring have been uploaded on to our social media pages which can be found here if you would like to see how members performed… spoiler alert – very well!
*Important Notice* - The brown belt grading was postponed due to head instructor David being on paternity leave. The new date for these belts has been moved to Thursday 11th Ocotber
The Focus master G-1000 is the newest piece of functional training equipment we have at Elemental Fitness. The design gives users endless possibilities and striking applications to enhance their training. Constructed with quality steel it takes up virtually no floor space as it wall-mounted. You can change out and rotate accessories with a lock-in tumbler system. This system helps make target changes quick and easy, providing endless combinations. All targets lock-in to any of the 20 target mounting studs located on the mainframe.
Visit the EF Site to book a personal training session and get practicing on the Focusmaster!
Don't worry, we want to talk about the EKA Fight Club and let everybody know about it. Run by blackbelts Sanaa and Aiden, the new Saturday Fight Clubs will hopefully build a new team of fighters for the EKA.
Expect a team building session to improve fighters' strengths and know how to exploit an opponent's weakness effectively as well as pad drills, points and light continuous fighting to develop a team of unstoppable fighters.
And best of all, it's free. All you need is all the correct sparring equipment and to be a full member of the EKA. For more information go to our Facebook group page.
Two More Mini Ninjas Join the EKA
Biggest news of September was the arrival of two babies to the Kenyon family and the McLaughlin family. First off, we were introduced to Kris and Tracey's first child - Lukas. He was born 10th September at 4:20am weighing in at 8lbs and 1oz.
Three days later at 18:38 on 13th September David and Leanne brought Phoebe (their third child and first daughter) into the world weighing 6lb 13oz.
Congratulations to both families and we can say all are doing well and having sleepless nights from feeding and nappy changing. Who's going to be next?
Catch up on the most recent blogs from staff and members of the EKA.

If you have any things you believe are important to martial arts, fitness and/or health related topics then let us know. We would love to hear your take and post your ideas for others can gain another perspective on health and wellbeing.
Speak to either David, James or Megan at the Elemental Kickboxing Academy or email through info@elemental-fitness.com.
Bring 3 friends to sign up for the 4-4-12 offer and get a free personal training session.
Also go to our prices page to see which package best suits your training needs.